---
SECOND GENERATION
Hibbert Family
In 1903 Wilbur & Orville Wright successfully fly a powered airplane
2. William Sylvanius Hibbert born 7 December 1878 in West Salem, Illinois, died 10 October 1934 in Dayton, Oregon. He had diabetes and was insulin dependent. He was sick for a week before he died, having just returned from a trip, with his wife, to the Chicago World's Fair. W.S. married, Thursday, 15 January 1903 in Oregon at an Episcopal Church, document does not say the name of the city.
When they were first married they lived in a little house near the Yamhill River. William worked at an evaporating plant which made vegetable soup mix. Most of the soup mix was sent to Alaska. William had developed the formula for that mix.
During World War I, between the years 1914 & 1917, W.S. bought a railroad car load of sugar at $5.00 a sack. Then the sugar price went up to $25.00 per sack. W.S. had a can full of gold coins that he buried in the basement. The kids were very surprised and eyes, all agog, when he brought it up and dumped it out on the kitchen table!
W.S. owned and operated a grocery store and a feed store. He also owned a truck dealership in partners with a judge from Oregon City, and was partners with his brother-in-law, Captain Lumm, in ownership of a steamboat, a paddlewheel named "The Relief". It went up and down the Yamhill River between Dayton and Portland, Oregon. He also had orchards of peaches, walnuts, filberts, and logan berry fields. Upon his death his wife and grandson, Richard Tudor Hibbert, operated all this during the fruit season. During the Second World War, Richard spent the summers with his grandmother Hibbert. He sold peaches by the side of the road. The shipyard workers stopped on the way home to buy, they always seemed to have lots of money. Richard drove a truck with the crates of loganberries to the cannery at age 13. Richard's father's cousin, Evie, taught Richard to drive.
1910-Mark Twain died
1910 - Florence Nightingale died - born 1820
3. Wilheminia Louise Tudor Wambsgans born 28 October 1878 in Omaha, Nebraska, died 3 January 1968 in Dayton, Oregon.
The Indians came to the house and asked for the child with the golden hair. Her mother, Eliza, stood up to them and said "NO". She bartered with them and gave them something else. The child with the golden hair was Wilheminia.
The first family car was a Ford purchased new in 1910. Babe was so tiny that her mother worried about taking her in the car. She was afraid that if they hit a bump, the baby would break her neck.
Wilheminia learned to drive the car. Once when the kids were in their teens, she was driving and W.S. was with her. He kept telling her to slow down, she got flustered and wiped out the fence. She got out of the car and never drove again!
Wilhemina painted some lovely pictures. She also painted on china. After her death, a few cups and saucers, that she had painted, were found. Wilhemina went to high school in Dayton.
W.S. went to Linfield College. One day he invited Wilheminia to come to school to meet one of his professors. But when he went to introduce her, he couldn't remember her name. Wilhelmina retold that incident many times.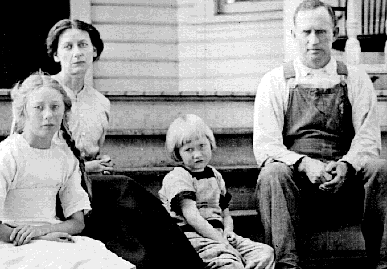 Hester, Wilheminia, Elizabeth, and William Sylvanus Hibbert about 1915

Children:
2A. Hester Louise Hibbert born 4 January 1904 in Dayton, Oregon, died of cancer, 28 August 1959 in Dayton, Oregon, married 27 June 1936 to Clare Lloyd Heider born 2 December 1901, died 19 March 1985. Clare was Mayor of Dayton, Oregon in 1958.


1937-Disaster of dirigible "Hindenburg"

When Hester was little the family lived in Dayton, Oregon on Ferry Street above the feed store that their father owned. Hester liked to put a knife and other things down a crack in the upstairs floor. These things would drop into the store, onto customers at the counter.

The family went to the beach each summer for two weeks at Netarts, Oregon. One time they took a trip to Crater Lake in Southern Oregon. Hester had long hair but had been wanting a "bob" as was the new fashion. Her mother had tired of hearing her talk about it. So they went behind a log and cut her hair! Hester went to college at what is now called Oregon State University, then called Oregon Agricultural College, later changed to Oregon State College. She completed one year there.

Children:

2Aa. Frederick Kenneth Heider (Fritz) born 2 December 1938 married Lois Simms in 1985. Fritz was named for his paternal grandfather. He works at a co-op with fertilizers and sprays.

Children:

2Aa1. David Heider.

2Aa2. Sheila Heider.

2Ab. William Steven Heider (Steve) born 3 January 1940 in McMinneville, Oregon, married 4 July 1969 to Beverly Morgareide daughter of Oden and Edna Morgareide. Steve was named with the initials W.S. for his maternal grandfather. Steve was in the army at the time of his mother's death. He now works as a baker for Archway Cookies in McMinneville, Oregon.

Steve was nine years old when Harry Truman ran against Thomas Dewey. Steve liked Thomas Dewey. Steve's brother said that since Steve liked the Donald Duck boys, Hughy, Dewey and Louie, Steve thought Thomas Dewey must a good guy!

Child:

2Ab1. Patricia Susan Heider born 2 January 1973 in McMinneville, Oregon.

1949, January 20 - Harry Truman was inaugurated for his second term!

Bill Hibbert about 1922

2B. (Wilfred 1) Higinbotham Hibbert born 7 June 1907. After Wilfred (Bill) was born they moved from the feed store living quarters about a half a block down the street to a little house, which was also on Ferry Street. When Bill was young he was very stubborn. His Dad asked him to take the newspaper to his grandfather Hibbert. Bill said "No!" He just laid down on his stomach and wasn't going to go. His father made him hold the paper and switched him all the way from their house, down the main street of town to Grandfather's house.

Wilfred (Bill) went to Oregon State College for one year.

2C. Elizabeth Mary Tudor Hibbert (called Babe as she was the baby of the family) born 19 March 1910 in Dayton, Oregon, married first 29 May 1934 to Floyd Byron Willert. Floyd didn't feel well so went to the doctor. He was to stay in the hospital just overnight. But at nine o'clock that evening, his wife received a phone call saying that he had died. Needless to say, it was quite a shock!

The family moved to the big, new, white house on Fifth Street before Babe was born. It was from this house that the girls, Babe & Hester, would walk to their grandfather Wambsgans' house. They were drenched in perfume, which they knew he hated. Grandfather told them that if they would wash off the perfume they could go into a little drawer and take out a penny. Knowing all of this, the girls pulled this little trick often!

Babe went to the University of Oregon for four years and graduated from there.

She was postmaster of the post office in Dayton, Oregon from World War II, until she retired.

Children, birth brother & sister, adopted:

2Ca. Patricia Elizabeth Willert born 13 January 1940 in Portland, Oregon, married three times.

Children:

1. Janie Elizabeth Knott born 27 April 1960.

2. Michael Knott born 25 July 1961.

3. Julie Willert born 13 November 1962.

4. Robert Jordan born 2 Octobert 1970.

2Cb. William Stanley Willert born 27 February 1941 in Portland, Oregon, married.

Children:

1. Lisa May Willert born 30 December 1966.

2. Donna Kay Willert born 23 December 1968.

Elizabeth Mary Tudor Hibbert married second 8 November 1970 in Portland, Oregon to James Kip Scott. Jim had a twin brother, Ralph who died of cancer about 1984. They were born 13 March 1916.
---
THIRD GENERATION
Hibbert Family
Abraham Lincoln was assassinated 14 April 1865
4. William Hibbert born 12 July 1844 in West Salem, Illinois, died 6 October 1919 in Dayton, Oregon, married 10 September 1865 in West Salem, Oregon.
According to the census records of 1870, 1880, 1900 and 1910 William was a farmer. On the 1870 census he owned land valued at $2500.00.
Susan Jane Dawson

5. Susan Jane Dawson born 4 July 1843 in Kentucky, died 4 January 1913 in Dayton, Oregon. Susan Jane married first Silvanius Bunting who died of Typhoid Fever at the Regimental Hospital at Franklin, Louisiana on 23 January 1864 during the Civil War, No Issue. (Notice the name Silvanius from first husband and the Sylvanius in son's name.)
Children of Susan Jane & William Hibbert:
Anna Perena Hibbert

4A. Anna Perena Hibbert born 28 November 1866 in West Salem, Illinois, died 17 December 1942, married on 30 October 1887 in Yamhill County, Oregon to Cornelius Westerfield.

Children:

4Aa. Luella May Westerfield born 15 October 1888 in Lafayette, Oregon, died 8 January 1919.

4Ab. George Barnet Westerfield born 25 May 1890 in Lafayette, Oregon, died 14 May 1936.

4Ac. Harry Everett Westerfield born 29 April 1895 in Lafayette, Oregon, died 14 March 1943 in Bremerton, Washington.

4B. Hannah Jane Hibbert born 7 September 1868 in Illinois, died in 1930 at Dayton, Oregon, married to Frederick Berning born in 1859, died in 1940, buried in Dayton, Oregon at the Odd Fellow Cemetery.

Children:

4Ba. Ruth Berning born 25 June 1893, died 1 November 1895 in Dayton, Oregon.

4Bb. John Berning.

4Bc. Florence Berning.

4Bd. Mabel Berning.

4Be. Louise Berning married Philip F. Brogan. Philip Brogan was a journalist for The Bend Bulletin, a newspaper in Bend, Oregon. He also wrote several books on Central Oregon.

4C. Luella Bell Hibbert born 9 February 1870 in Illinois, married William Foster born November 1856.

Children:

4Ca. Clark Foster born in September 1891 in Oregon.

4Cb. A.D. Foster born in December 1892 in Oregon.

4Cc. Sellah Foster born in March 1894 in Oregon.

4Cd. Frank Foster born in October 1896 in Oregon.

4Ce. Vernon Foster born in April 1898 in Oregon, married Elizabeth Sims, Elizabeth is a sister of Catherine Sims who married Harry St. George Tudor Wambsgans, son of Eliza and Louis Wambsgans.

4Cf. Wilva Foster born in 1904. 4D. James Hibbert born 5 March 1872 in Illinois, married Martha Johnson. (No Issue) Both are buried in McMinneville, Oregon at the Evergreen Cemetery.

4E. Emma Marier Hibbert born 24 April 1875, died 19 September 1876.

4F. (William 2) Sylvanius Hibbert born 7 December 1878. W.S. played the tuba in the Dayton Band. Babe remembered the tuba sitting in the living room.

During Prohibition the family made beer in the basement. It may have been bottled too soon. Aunt Carrie, who was a teatotaler, came to visit. Pretty soon there was a "ping" from the basement. Carrie asked, "What was that?" "Oh, probably just a piece of wood". said W. S. Then there was a "ping, ping, ping" all over the place. It couldn't be kept a secret any longer. The beer had exploded, all of it, all over!

4G. Addie Grace Hibbert born 5 September 1881 in Illinois, Addie married Herbert Baxter. She died in childbirth. The baby died, too.

4H. Cara May Hibbert born 1 August 1887 in Oregon, died 1944 in Dayton, Oregon, married Iner Mortenson. (No issue) When Carrie was a little girl, about 4, she ran away from home. She was gone about an hour. No one went to look for her so she came home. She sat down on a stool and said "well, the cat still looks the same!"

William Hibbert married second to Fietta Bailey. Their house had a good smell of apples from all the apples in their basement.

front row - Fietta & William Hibbert




---

FOURTH GENERATION

Hibbert Family

The Coronation of Queen Victoria in 1838

8. James Hibbert born 15 July 1807 in England, died 15 July 1869 in West Salem, Illinois, buried in West Salem, Illinois, married first 16 February 1828 at Manchester, England in the Manchester Cathedral to Martha Scrivens. James worked in the mills as a Spinner while in England. This information about his occupation is from his marriage document from the record's office in London. After arriving in the United States he was a farmer, with land valued at $3,000.00 according to the 1860 census.

From book - "THE ENGLISH", A Social History, 1066-1945 by Christopher Hibbert, page 475 & 476:

" The manufactories are mostly of hardware and glass, and are less unhealthy, although more dirty, than those of Manchester and Glasgow, which require heat and confined air, and clog the lungs with floating particles of cotton."

"In nearly all factories discipline was harsh... While bonuses were occasionaly awarded, punishments were imposed for insubordination.

"J.L. and Barbara Hammond cited the fines imposed upon spinners in one Manchester workshop where the temperature rose to 84 degrees Fahrenheit.


| | | |
| --- | --- | --- |
| | s. | d. |
| Any spinner found with his window open | 1. | 0 |
| Any spinner found dirty at his work | 1. | 0 |
| Any spinner found washing himself | 1. | 0 |
| Any spinner leaving his oil can out of its place | 1. | 0 |
| Any spinner putting his gas out too soon. | 1. | 0 |
| Any spinner spinning with gaslight too long in the morning | 2. | 0 |
| Any spinner heard whistling | 1. | 0 |
| Any spinner being five minutes after last bell rings | 1. | 0 |
| Any spinner being sick and cannot find another must pay for steam per day | 6. | 0 |
| Any spinner found in another's wheel-gate | 1. | 0 |
| Any spinner neglecting to send his sweepings three mornings in the week | 1. | 0 |
| Any spinner having waste on his spindles | 1. | 028 |




Children:

8A. Eliza Grace Hibbert born 11 September 1831 in England, christened 27 November 1831 at the Manchester Cathedral, in Manchester, England, died 27 August 1908 in Albion, Illinois, married 12 June 1862 in Edward County, Illinois to Lorenzo Dow Ackley born 15 April 1817 in Cumberland County, New Jersey, died 29 April 1895 in Albion, Illinois. Lorenzo married also in 1848 to Ann _______.

1862-Henry David Thoreau, American author, died

Children:

8A1. Martha Ackley born 6 April 1863 in Illinois, died 6 April 1913, buried in Edwards County, Illinois, married Lycrugus Lindsay. Martha also married Grandison Christy.

8A2. Clara Ackley born in 1865 in Illinois, married Lycrugus Lindsay. Clara also married William Bass.

8A3. Jersey G. Ackley born In 1867 in Illinois, married Thomas (Newt) Rodgers.

8A4. Lorenzo Dow Ackley born in 1869 in Edwards County, Illinois, died in Friend, Oregon, married Mollie(?) Barber.

8A5. Lucy Adelaide Ackley born 26 November 1871 in Edwards County, Illinois, died 10 January 1951 in Edwards County, Illinois, married 15 April 1891 to John Zachariah Wade.

8A6. James W. Ackley born 18 March 1874 in Edwards County, Illinois.

1838-Queen Victoria's Coronation

James Hibbert married second on 1 November 1838 at the Manchester Cathedral in Manchester, England. James, his new wife and his daughter, Eliza left from the port of Liverpool, England on the ship "Susquehanna.

They arrived 23 September 1839 at the port of Philadelphia, Pennsylvania. By 1840 they are in East Windsor Township, New Jersey. And by 1850 they have moved on to West Salem, Illinois where they buy land on 8 November 1851.

9. Hannah Bardsley, called Anna, born 14 February 1804 in England, christened 25 March 1804 at the Manchester Cathedral in Manchester, England, died 15 October 1855 in West Salem, Illinois, buried in West Salem, Illinois. Hannah is the daughter of Jonas Bardsley and Hannah Green married on 25 December 1800 in Manchester, England.

Children:

8B. Martha Hibbert born 14 April 1842 in Pennsylvania, died 29 June 1880, married 7 December 1866 in West Salem, Illinois to Joseph Slick.

8C. (William 3) Hibbert born 12 July 1844. William had a white beard and a great laugh. He drove his wagon full of cabbages into town, in Dayton, Oregon, the family, at home, could hear him laugh and they all went down to see him. The wagon had side boards in order to hold all the cabbage. William Hibbert lost the farm at a Sheriff's Sale, about 1900.

James married third on 14 June 1862 to Sarah Dawson in Edwards County, Illinois.

---

FIFTH GENERATION

Hibbert Family

In 1812 The United States declares War on Britain

16. William Hibbert was a dyer according to the information on his son's marriage certificate. This marriage certificate was issued at the Manchester Cathedral in Manchester, England.

Children:

Like all his fellow-manufacturers, Peel introduced machinery whenever it was profitable to do so; and it was probably through fear that the introduction of new machinery would provoke the jealousy of his handloom workers that he moved a branch of his business to Tamworth in Staffordshire from Blackburn. Handloom weavers did, indeed burn down a factory in Manchester after the introduction there of a new power loom; but such attacks were, as yet, quite rare, and most workers were prepared to tolerate the innovations so long as the opportunities of employment kept pace with the rapid increase in population.