ANCESTORS OF WILFRED HIGINBOTHAM HIBBERT FIRST GENERATION
Hibbert Family
1931 "Star-Spangled Banner," words by Francis Scott Key officially becomes U.S. national anthem
1. Wilfred Higinbotham Hibbert (Bill) born 7 June 1907 in Dayton, Oregon, died in his sleep of heart failure, 21 August 1971 at Waldport, Oregon, married 13 October 1931 in McMinneville, Oregon to Ursula Henrietta Mattecheck.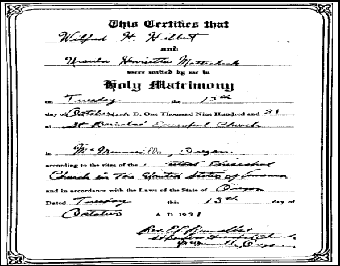 When Bill had finished his first year of college at Oregon State College, he wanted a car. His father said he could send him to school for another year or buy him a car. Bill decided on the car and did not go back to school. Bill was working in the family grocery store when he and Ursula married.
They first lived in a house next door to his sister, Hester. (That house is gone now.) Hester and her husband Clare lived at 406 W. Main. Then in 1934, Bill & Sue moved to a new house at 533 Ash Street, which was next door to Bill's other sister, Elizabeth.
Bill & Sue's first home in Sheridan was 1050 Main Street on Highway18. They probably moved to Sheridan after the death of Bill's dad in 1934. At that time the store was sold. Bill moved to Sheridan, Oregon where he built a new movie theater.
The family farmed a quarter section (360 acres) from 1944-1952. To find the farm, go out Willimina Creek Road to Tindall Creek Road, Turn at the bridge and the 1904 Fenton School. This is the area where the farm was located. When they cut hay, the Baintor Brothers came to help. Sue set up a big Harvest Lunch, after that lunch all the workers slept until 2:00. They had begun work at 5AM and after their naps worked until sunset.
The house on Harmony Road was started 1 August 1948 and finished 2 December 1948. (This information was found on the garage wall in 1986 when Jennie and Richard Hibbert made an unexpected stop to view the house from the road.)
They were invited in by the present owners, Mr. & Mrs. Rice who purchased the house from Bill and Sue. Mrs. Rice had found some items in the house that obviously had belonged to the Hibbert Family and just couldn't throw them away. But at that moment didn't remember where she had put them. So over the next few years the postman would deliver photos, books and a bible.
| | |
| --- | --- |
| | |
| Wilfred Higinbothom Hibbert | Ursula Henrietta Mattecheck |
Most of Bill's life was spent running the 60 acre farm on Harmony Road with white faced Herford cattle, grain and prune orchards. Wednesdays were cattle sales day at the auction barn. Bill often told his son Bob to "put the racks on the (stake bed) truck". Then off they would go to the sale. Sometimes they would buy cattle, sometimes not. If they did buy, they frequently did not arrive back home with their purchase. Dad would remember that Jack up the road or Joe over the hill had said that he wanted a couple of good beef cattle. So Dad and Bob would stop and dicker. With hands in pockets, one foot, then the other, kicking dirt, that seemed to be the part Dad liked best, the dickering. He said that to sell the cattle then at even a small profit was "just like finding money on the street!"
During the evenings he owned and the family operated three movie theatres and a drive-in movie theatre. They rented the films in Portland, Oregon at an exchange near the corner of Lovejoy and Irving. Trips were made about once a month.
When he died he left a moderate inhertiance to his wife Ursula.
Children: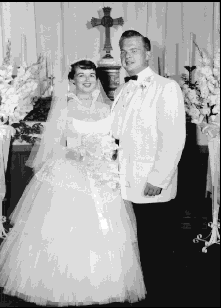 Jennie and Richard Hibbert
When Richard was about a year old he went with his Grandfather Hibbert to the orchards. Grandfather drove a truck he called "Ben Hur". Richard's Grammy and Auntie Babe always worried about the two of them as Grandfather drove like a "bat out of hell"!
1966-Edwin F. Aldrin steps out of the Gemini 12 for 129 minutes
Richard went to college at Oregon State College, majoring in Business and Technology and Naval Science. Therefore, upon graduation he was assigned to the heavy crusier, USS Toledo, for two years. Then he went back to college at the University of Oregon, in Eugene to major in architecture. He became a registered Architect in 1966. At that time went back into the Navy in order to take the family to Japan, where they lived for five and a half years. The family traveled Japan from top to bottom. They visited in the north, seeing Mount Akan & the Lake Akan. And at the most southern tip of Japan the children rode camels in a children's park. They went to see Monkey Mountain in Beppu, and to the Japan Sea to a famous park. They went to the Kite Festival, to the Moon Festival, to Shi Chi Go San (the festival for children ages 3, 5 &7) to see the Budah in Kamakura, to Expo 70 in Osaka and to the Palace Grounds in Tokyo. They rode the Bullet Train & traveled by car (their big gold oldsmobile). The children did all the normal things on the American Base at Yokosuka, the boys were in Little League & Scouts, and played basketball, Kerry took ballet and was in Brownies. They learned to swim, went to school, & had many friends.
Then the family returned to the United States in 1972 to live and work in Northern Virginia. Richard was the Technical Advisor for Naval Family Housing.
Children:
Mike & Lolita Hibbert

1Aa. Michael Scott Hibbert born 16 July 1957 in Long Beach, California. He married first on 28 April 1984 to Insuk Yi Sides, divorced. He married second 7 December 1990 to Lolita Garay Reyes, born 12 October 1967, daughter of Lucilla Garay & Domingo P. Reyes.

Children of Lucilla & Domingo Reyes:

1. Jose Garay Reyes

2. Lydia Garay Reyes

3. Dominica Garay Reyes

4. George Garay Reyes

5. Twins who died

6. Geronemo Garay Reyes

7. Lolita Garay Reyes

8. Melchor Garay Reyes, who died at age seven, was a twin to Lolita.

1958-Alaska becomes 49th state of the U.S.

1Ab. Christopher Tudor Hibbert born 13 August 1958 in Eugene, Oregon.

1Ac. Stephen Richard Hibbert born 1 September 1960 in Eugene, Oregon.

Ed & Kerry Ross - 1985

1Ad. Kerry Suzanne Hibbert born 14 September 1962 in San Jose, California, married 10 August 1985 in Fairfax Station, Virginia, at the home of her parents, to Edward William Ross Jr. born 8 September 1955. He is the son of Thelma and Edward William Ross, Sr.

Children:

1. Edward (Ed) William Ross, Jr.

2. Fred Allen Ross

Ed & Fred's father, Edward William Ross, Sr. was killed. He was a prison guard, and while chasing an escaped prisoner, there was a car wreck. Their father was found dead.

Their mother married second, to James Deacon.

Children:

3. Barbara Deacon, married Stan Smith.

4. Gerald Wayne Deacon married Sandy _____.

1B. Robert Walter Hibbert born 15 August 1935 in McMinneville, Oregon, married first 10 November 1956 in Corvallis, Oregon to Sharon Deanna Hyder born 26 February 1937. Divorced. When Robert was young, he loved to go fishing. He was known to get so involved that he missed dinner on many occasions. His dad called him "Little Joe" after a character in the movie, CABIN IN THE SKY. Robert first majored in Agriculture at Oregon State University. Then he secretly changed to Fish & Game, & since it was part of the Agriculture department, his father didn't know. Dad planned that Richard would take over the theaters and Robert would take the farm. However, Bob had hayfever and didn't want to be a farmer. Bob told his Dad he was going to Alaska to work for the summer. While there he injured his leg, and with that he knew he couldn't continue his career in Fish & Game so he changed his major to Education. He was a physical education teacher, worked as a manager of a bowling alley, and settled on a career as an adjuster for State Farm Insurance Company.

Children:

1Ba. Robert Paul Hibbert (Bobby) born 28 June 1957 in Salem, Oregon, died 21 May 1963 in Modesto, California. Bobby died of a rare disease called Myoglobunuria, where the fluid from the muscle tissue gets into the blood stream. It then causes paralasis.

1Bb. David William Hibbert born 3 November 1958 in Corvallis, Oregon, married in San Diego, California on 11 September 1981 to Holly Tanishamey born 9 September 1961.

| | |
| --- | --- |
| | |
| Paula Elizabeth Hibbert | David William Hibbert |

Child:

David James Hibbert born 11 August 1992.

1Bc. Paula Elizabeth Hibbert born 26 February 1960 in Modesto, California, married, (second) 26 May 1990 in Nassawatox, Virginia to Pete Paschal born 4 August 1960.

1960, November 8 - John F. Kennedy elected president of the U.S.

Adopted - children of Sharon's half-brother, Robert Keene:

| | |
| --- | --- |
| | |
| Debra Diane Hibbert | Scott Robert Hibbert |

1Bd. Debra Diane Hibbert born 19 January 1959 in Modesto, California.

1Be. Scott Robert Hibbert born 16 May 1960 in Modesto, California.

Robert Walter Hibbert married second on 11 August 1973 in Bend, Oregon to Barbara Ann Byrkitt born on 19 September 1935 in Los Angles, California. Barbara (Bobbie) was first married to George Pressley. This marriage ended in divorce.

Child of Robert and Barbara:

1Bf. Molly Jean Hibbert born on 1 October 1974. Molly legally changed her name to Molly Elizabeth Tudor Hibbert in March 1992.