ANCESTORS OF URSULA HENRIETTA MATTECHECK - FIRST GENERATION
Mattecheck Family
1. Ursula Henrieta Mattecheck born 4 April 1904 in Mapleton, Minnesotta, died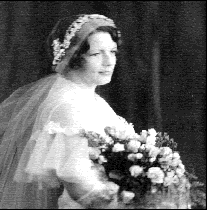 Ursula Henrieta Mattecheck
on her wedding day, 1931

31 December 1979 in Visalia, California, cremated & interred at Waldport, Oregon, married 13 October 1931 in Dayton, Oregon to Wilfred Higinbothom Hibbert born 7 June 1907. Ursula was born the fourth day of the fourth month in 1904. In her teenage years she was called "Sue" and had lots of boyfriends. They had cats as pets. One's name was Dinklespiel which means playful. He learned to get up where he could maneuver the doorknob and get it open. They lived in a little red house near the tracks. Later they moved to a large gray house closer to town. Then they were one or two blocks from the business district. This house had two stories. The kids had rooms upstairs. They slept on a sleeping porch, each in their own bed.

Their parent's room was downstairs. One time the family had made homemade rootbeer. It was put out on the roof to age. The bottles were laying on their sides. They somehow got loose and started to roll off. They made a terrible racket and woke up everybody! The family went to the mountains in the eastern part of Washington for a week. A spring broke in the car so Dad worked most of the time fixing the car. Everyone but Father went to the sulphur springs and a swimming pool with water from the springs. It was fun to swim in the bouyant water.

Richard Tudor Hibbert
Robert Walter Hibbert
Children:
1. Richard Tudor Hibbert born 8 March 1933 in McMinneville, Oregon.

2. Robert Walter Hibbert born 15 August 1935 in McMinneville, Oregon.

---
SECOND GENERATION - MATERNAL LINES
Mattecheck Family
1898 - The Spanish-American War, 15 February 1898, U.S.S. Maine was mysteriously blown up in Havana harbor.
2. Matthias Walter Mattecheck born 3 August 1876 in Watertown, Wisconsin, died 14 April 1955 in McMinneville, Oregon, buried in St. James Catholic Cemetery in McMinneville, Oregon, married 1 June 1903 in Minneapolis, Minnesota at St. Charles Catholic Church by Father McCarthy.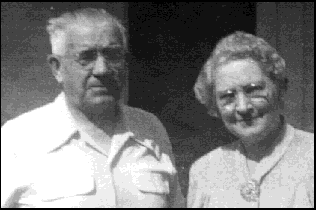 Matthias Walter Mattecheck & Mary Henrietta Webb about 1950
(The church has burned and Father McCarthy is dead) Matthias was often called "Matt". He graduated from high school and then went on to Law School at the University of Minnesota, where he graduated before he married. Matt moved his wife and children from Michigan, where he was in the banking business, to Kennewick, Washington. In Washington he had a hardware store where he worked during the day. At night he had a Reo Car dealership.
1904 - The Reo introduced by R.E. Olds has a
wheel instead of a tiller...
Then he dropped the car dealership and bought a theatre there in Kennewick. In 1926-27 Mother moved to Seattle to have better schools for the kids. Then Matt found a theatre in McMinneville, Oregon. That is when he started the Lark Theatre, just after Bob graduated. So when Harriet finished high school, they all moved to McMinnevville. Matthias Walter Mattecheck was a real good egg. But Mother always seemed to want to spoil everyone's plans. Once Matt wanted to go to a theatre convention and asked his wife to go with him. She said no assuming that he wouldn't go either but he did. Things were mighty cool when he got back home. Matt died of bone cancer.
3. Mary Henrietta Webb born 3 March 1879 in St. Paul, Minnesota, died 24 March 1954 in California, buried next to her husband at St. James Catholic Cemetery in McMinneville, Oregon. Mary's mother died when Mary was nine years old. Mary did not like her stepmother, Sarah. Mary was a teacher for several years. Mary Webb wrote a poetry book called "Autumn Leaves". Her pen name is May Webb Mattecheck. She chose "May" because her father called her "May-ree". On page 9 of her book is a poem about May-Ree. She had a running argument with the poet editor of the Oregonian newspaper.
Children:
Bob & Ursula (Sue) Mattecheck, about 1909

2A.(Ursula 1) Henrietta Mattecheck born 4 April 1904 in Mapleton, Minnesota. Ursula was named after St. Ursula and called "Urs" as a child. Among the things Dad sold at the hardward store were Victorolas. So they got one and Sue played it very loudly on the front porch so that everyone would know they had one! When they lived in Kennewick and Sue went swimming at the Columbia River, she liked to ride on the running board of the Reo. She wore a swim suit with a long sweater over it. It looked as though she was naked!

Mother did not approve.
2B. Robert Joseph Mattecheck born 5 November 1906 in Grand, North Dakota, died 11 December 1976, married first on 23 May 1928 to Mary Frances Donnelly who was killed in a car accident in 1969. The three kids took turns by the week at doing chores. They did the dishes, set and cleared the table. If it was your birthday you didn't have to do your chores. They were raised Catholic, so went to Mass every Sunday and said their prayers each night. They probably had all the childhood diseases. Some of the games they played were Run Sheep Run, Hide and Seek, and Tag. The kids went to school by bus. Sometimes Dad would take them, that was a treat!

1929, 28 October - "Black Friday" in New York, U.S. Stock Exchange collapses; world economic crisis begins; U.S. securities lose $26 billion in value




Children:

2B1. Robert James Mattecheck born 11 July 1929.
2B2. Molly Paula Mattecheck born 3 November 1930.
2B3. Michael William Mattecheck born 23 May 1940.
2B4. Penny Ann Mattecheck born 17 April 1943.

2C. Harriet Mary Mattecheck born 30 December 1909 in Ironwood, Michigan, married 17 January 1938 to Richard Franklin Gwehr. Harriet was named for her Aunt Harriet as she had provided the layette. A postcard that was sent to announce the birth of Harriet had as a picture on the front The Gogebic National Bank. At the bottom it listed the officers of the bank, among them was cashier, M.W. Mattecheck. Harriet started to school in the first grade when she was five years old, went to second grade but missed third grade as she had polio when she was six years old. At first it was thought that she had typhoid fever. Harriet was in bed for a year. Harriet's mother took her to Mayo Clinic on the train. But nothing could be done for her leg, that was satisfactory. They had a choice of operating or not operating. If they operated, the joint would then be stiff. Mother decided not to operate. So the bone made its own socket. When Harriet went back to school, she wore a body cast and was on crutches. The children at school teased her but the neighborhood kids were more understanding. Harriet worked as a stenographer at Manzane Concentration Camp for the Japanese in California during World War II. Her husband, Dick worked in the food department for the whole camp. He bought meat and overlooked its care and preparation. Then Dick was drafted into the army so Harriet went back to "Mac", (McMinneville, Oregon). Dick & Harriet had a resturant in Portland, Oregon called "Coffee And".

Children:

2C1. Richard Craig Gwehr born 4 March 1948.

2D. Katherine Mary Mattecheck born 12 August 1911 at Ironwood, Michigan, died 3 July 1912.
---
THIRD GENERATION - MATERNAL LINES
Mattecheck Family
1906 - San Francisco earthquake kills 700; $400 million property loss!
4. Joseph Mattecheck born 8 April 1833 in Prag, Czechoslovakia, died 24 May 1917, married about 1852.
5. Anna Draschlea born about 1834 in Bohemia, died 15 November 1910.
Children:
4A. Mary Paul Mattecheck born 16 October 1860, died 11 October 1916.

4B. Frank Mattecheck born 2 April 1862 in Bohemia, died 6 April 1955, married Heleena Wagoner.

Children:

4B1. Edward Mattecheck born March 1893 in South Dakota, died 23 March 1958, married Sophie Dokken

4B2. Leo Mathias Mattecheck born 19 September 1894 in Webster, South Dakota, died 7 January 1961 in Portland, Oregon, married Agnes Catherine Sheelar on 16 September 1919 in Webster, South Dakota.

4B3. Joseph Mattecheck born 1896 in South Dakota, died November 1977, married Naomie Premus on 20 July 1931.

4B4. George Mattecheck born 6 May 1903, died 1 March 1975.
4B5. Gertrude Mattecheck born 23 May 1906, died 17 June 1959.
4B6. Henry Mattecheck born 1908 in South Dakota, died March 1969, married Hazel Erickson in December 1920, also married Marietta Ryan.

4C. Annette Mattecheck born 2 February 1863, died 5 March 1944, had one child.

4D. Clara Mattecheck born about 1865, married Hans Thompson, had a daughter named Helen Manning.

4E. Joe Mattecheck born 30 January 1869, baptised 8 February 1869 in Watertown, Wisconsin.

4F. Alois (Abe) Mattecheck died 24 November 1949. Abe carved wooden wind mills. He was a farmer, never married and died of cancer.

4G. Annan Mattecheck born 1 January 1871 in Watertown, Wisconsin, baptised 15 February 1871 in Watertown, Wisconsin, died before 1875.

4H. Henry Mattecheck born 9 September 1872, baptised 15 September 1872 in Watertown, Wisconsin, died 5 February 1939.

4I. Anna Mattecheck born 30 January 1875, baptised 27 February 1875 in Watertown, Wisconsin, died 17 November 1941, married ____________Monzel.

4I.(Matthias 2) Walter Mattecheck born 3 August 1876 in Watertown, Wisconsin, died 14 April 1955 in McMinneville, Oregon.
---
THIRD GENERATION - MATERNAL LINES
Webb Family
6. James Robert Webb born in December 1844 in Kentucky, married 29 December 1868 in Maysville, Kentucky. On the 1900 Census he states he is a boot and shoe salesman in Austin, Minnesota.
7. Henrietta Wordsworth Pemberton born 4 September 1848 in Maysville, Kentucky, died 24 March 1888, in Austin, Minnesota. Married 29 December 1868 to James Robert Webb.
Children:
6A. Harriet Ashebrooke Webb born 15 October 1867 in Maysville, Kentucky, married 29 June 1892 in Austin, Minnesota to Walter Eugene Waldron.

6B. Katherine Pemberton Webb born 19 March 1871, married 27 December 1897 in Austin, Minnesota to Charles Lewis Merrick.

6C. Abigail Baldwin Webb born in Minnesota 28 August 1877, died 7 October 1945, never married.

6D.(Mary 2) Henrietta Webb born 3 March 1879 in St. Paul, Minnesota.
---
FOURTH GENERATION - MATERNAL LINES
Webb Family
1861 - 1865, the Civil War in the United States
12. Edward Webb born in Maine about 1816. On the Kentucky 1880 census he states that he is a lawyer.
13. Sarah _________ born in Kentucky about 1816.
Children:
12A. Sarah Webb born about 1846 in Kentucky.
12B(James 3) Webb born about 1847 in Kentucky.
Edward Webb is enumerated on the 1880 census with his second wife, Abigail ________ who is two years younger. Edward's daughters did not like their step-mother.

On the 1870 census Edward Webb is next on the list to a William and Harriet Baldwin. I believe that Harriet is a sibbling to either Edward or his first wife, Sarah.

Notice the names of James and Henrietta Webb's daughters:
#1
Katherine
Pemberton
mother's mothers name
mother's fathers sur-name
#2
Abigail
Baldwin
father's step-mothers name
father's sisters married sur-name
#3
Harriet
Ashbrook
father's sisters first name
mother's sister's husband's sur-name
#4
Mary
Henrietta
mother's sister's name
mother's name