THIRD GENERATION - PATERNAL LINES
Tucker Family
7. Eliza Mary Theadosia Tucker born 4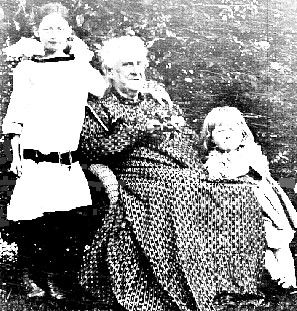 Hester & Elizabeth Hibbert with their grandmother, Eliza Wambsgans

June 1839 in St. Georges, Bermuda, died 21 February 1919 in Dayton, Oregon. As a grandmother, Eliza was rather strict. On Sunday afternoons the family gathered at the Grandparents home to sit on the porch and visit. The two little grandaughters wanted to go and play, but grandmother said "No!" All the adults were sitting in rocking chairs. They were rocking and rocking and rocking. The two little girls were instructed to sit on the bench! One little girl, Elizabeth, (called Babe) grew up to hate rocking chairs. There never was one in her house!

More about Eliza's Descendants appears in the Wambsgans file.

---
FOURTH GENERATION - PATERNAL LINES
Tucker Family
1840 - Queen Victoria of Great Britain marries Prince Albert of Saxe-Coburg-Gotha
The following is taken from the Dawson County Historical Society Newsletter dated June 1986.
"Often referred to in the history of Plum Creek, the Philadelphia Colony is significant because it amounted to the first major influx of settlers since the founding of the settlement in connection with the construction of the Union Pacific Railroad in the Fall of 1866. Many local residents can trace their ancestry back to a family that came with the Philadelphia Colony. The area is indebted to the hardy souls that made the long trip to the prairie of central Nebraska with the intention of establishing a home and a new life.

During the Winter of 1871-1872, Daniel Freeman, then Dawson County Clerk, went to Washington DC, Philadelphia, and New York to form a colony of settlers. One was organized in Philadelphia in response to an advertisement in the Philadelphia Ledger seeking 'adventurous souls' in the West. William H. Kennedy of Philadelphia and Edward S. Blackburn, of Bedford County, came to Plum Creek to scout around for the colony. Under the leadership of Captain Frederick James Pearson, the Philadelphia Colony, as it has come to be known in Dawson County history, left there on April 2, 1872, with some people from New Jersey. On their way west, they picked up a delegation from Bedford County at Johnstown and later a few people from Ohio joined the group. Some of the men brought their families and others came alone, intending to send for their families once they had established a home.

The next place we find the Philadelphia Colony is at Omaha. They stopped there for two days to rest and gather supplies before proceeding directly on to their destination. One account states the colony was met at Omaha by three men who had come ahead. Mrs. C.W. Krier mentioned in a letter dated April 7, 1872, that the colony was staying at the Howard House in Omaha where cheap arrangements had been made by the agent sponsoring the colony. She stated "the name of the place we are headed for is Plum Creek".

The Philadelphia Colony, numbering about sixty-five souls arrived by train at Plum Creek on Sunday, April 9, 1872 (actually Dawson Post Office until April 20). There they lived for several days in the four freight cars in which they had come. The cars were switched onto a siding where they remained until temporary residences could be erected for the colonists. Upon their arrival, the members of the colony drew lots for filing on land, either city lots, homesteads, or pre-emption claims. A committee of colony members was elected and sent east for teams and farm implements. Jess Bender was sent to Iowa to buy a carload of oxen. One Sunday, church services were being held in the shack used by the Freeman and Delahunty children for a school. In the midst of a long prayer, one of the Lamma boys stuck his head in the window and excitedly announnced, 'The oxen have come!' The congregation rushed out and as the man who was leading in prayer also had a team coming, he was one of the first to leave. That ended church services for the day."
Among those listed in the Philadelphia Colony were Reginald and William T.H. Tucker.
"The South Loup was one of the first two areas settled in Custer County, Nebraska. Tuckerville Post Office was establishsed 18 April 1877. It was named for Reginald Tucker who had interest in a ranch in that locality. The Postmasters were William T.H. Tucker-18 April 1877 and Reginald H. Tucker 26 June 1877."
14. William Tudor Tucker born 12 February 1808, died 18 June 1890, married 12 January 1832. William was the Counsel for the United States in Bermuda. The family lived in a lovely home with many servants. After the death of the mother, William and his daughter Eliza left Bermuda and moved to Nebraska. A welcoming party was held for them in a railroad box car. William dressed in his evening clothes with tails brought from Bermuda. The food that was served was fried mush! William also married Rosalie Masters, sister to Cecilia Anne Masters, his son, William Tudor Henry's wife.
From book, Bermuda, Today and Yesterday, by Terry Tucker.
William Tudor Tucker of Bermuda. Ad interim in charge from 26th July 1832; appointed Consular Commercial Agent, 5th September 1832; commissioned Consul 5th July 1838; retired February 1846.
William Tudor Tucker of Bermuda. Commissioned Consul 19th June 1850; assumed charge 11th July 1850' retired 23rd August 1853.
William Tudor Tucker of Bermuda. Ad interium in charge 11th September 1853-December 1854.
15. Elizabeth Prudden Higinbothom born 12 February 1815, died 8 September 1851 at St. Georges, Bermuda. No further information.
Children:
14A. Richard Higinbothom Tucker born 21 January 1833, died 18 October 1877, married 30 June 1858 in Douglas, Isle of Man to Elizabeth Mary England Graham.

Children:

14A1. Graham Tudor Tucker born 18 May 1859, married Beatrice Mercedes Higgs. This couple had three children, no details.
14A2. Richmond Lenord Tucker born 13 June 1860.
14A3. Beverly St. George Tucker born 6 September 1861.
14A4. Reginald Hebert Tucker born 18 November 1862.

14B. Hester Louisa Tucker born 6 August 1835, died 8 May 1879, never married.
14C. Herbert Reeve Tucker born 14 July 1837, died 17 July 1838.
14D. (Eliza 3) Mary Theadosia Tucker born 4 June 1839. After Eliza was married, she kept a horse saddled for escape in case the Indians would come to her house when they lived in Custer County, Nebraska.

1889 - Plum Creek changed its name to Lexington, Nebraska

14E. Anna Tudor Tucker born 30 October 1840, died 19 June 1912, married 29 June 1865 to Andrew Greig.

1865 - Mark Twain wrote "The Celebrated Jumping Frog of Clavaras County," a short story

Children:

14E1. Elisabeth Mary Tudor Greig born 30 March 1870, married 18 September 1888 to John Kendrick

14E2. Herbert Stanley Greig born 3 December 1871.
14E3. Louisa Maude Greig born 10 May 1873, died 25 July 1932, married in 1900 to W.D. Lent.

14F. Herbert William Tucker born 3 November 1842, died 13 May 1844, married 22 November 1883 to Jane Susan Higinbothom.

William Tudor Henry Tucker & his sisters children
Harry, Lena and Wilheminia Wambsgans

14G. William Tudor Henry Tucker born 11 October 1844 in Bermuda, died 29 August 1930 in Dayton, Oregon, married 6 July 1878 to Cecilia Anne Masters. The legend of Cecilia's death was that she died after childbirth when the sheets on her bed had been changed but were not completely dry. She died of pneumonia.

From newspaper clipping, "The Clipper", Lexington, Nebraska, Thursday, 18 June 1964 ...through the untiring efforts of W. Tudor Tucker & his family in April 1875, a neat Episcopal edifice, the FIRST church building in the county, was completed and consecrated St. Peter's Church..."


Children:

14G1. Marion Elizabeth Tucker born 18 November 1879, married Harry King. When Marion was going to get married she wrote to her father. Her father was working as a clerk for the city of Dayton, Oregon. He didn't make much money, but he struggled and managed to purchase and send to Marion a Silver Service for her wedding. When her father died, Marion wrote to relatives in Dayton for all her father's effects to be sent to her. She didn't believe it when told there was nothing to send!

Children:

14G1a. Jack King.
14G1b. Dorothy King married Leon Powell.
14G1c. Ethel King married Harry Downey Powell born 27 March 1875.
Children:

14G1c1. Marion Powell.
14g1c2. Harry Powell.

14G1d. William (Bill) King married Mary Haddon.

1848 - Gold discoveries in California lead to first gold rush


14H. Reginald Sands Tucker born 20 January 1846, died 6 November 1846.
14I. Reginald Machen Tucker born 16 September 1847, died 4 October 1882, married 19 January 1873 to Sophie Belle Mills.

Children:

14I1. Elizabeth Maude Tucker born 20 November 1878, died 17 January 1881.

14I2. (A Son) born 3 April 1880, died 18 April 1880.
14I3. Elizabeth (Bessy) born 12 October 1881.

From book, Settling the Seven Valley, 1872-1982, page 138; Tuckerville Post Office was established 18 April 1877. It was named for Reginald Tucker who had interest in a ranch in that locality. Postmasters: Wm T.H. Tucker 18 April 1877, Reginald H. Tucker - 26 June 1877. Reginald Tucker, Sheriff, - Custer County, Nebraska

1849 - Edgar Allan Poe, American poet - died

14J. Ruth Yeaton Tucker born 2 October 1849, died 11 January 1913, married 29 October 1868 to Jos Mallaby Higgs.

Children of Ruth and J. M. Higgs:

14Ja. Elizabeth Tudor Matilda Higgs born 1 September 1869, died 19 July 1870.

14Jb. Ruth Elinora Mary Tudor Higgs born 24 September 1870, died 22 December 1944, married 22 December 1888 to John Crosley, married also _____ Beals.

14Jc. Mary Higgs born 1 March 1873, died 1 May 1873.

14Jd. Fannie (Nan) Tudor Higgs born 22 November 1875 at Plumb Creek, Nebraska, died 13 April 1956, married Dave Van Cleave.<

14Je. William Tudor Mallaby Higgs born 23 August 1877, died 26 December 1967, married Ruby Corbin. This couple had six children, no details.

14Jf. Herbert Mallaby Tudor Higgs born 13 May 1879, died 20 November 1958, married Emma Vodicka. This couple had eleven children, no details.

14Jg. Hetty Louisa Tudor Higgs born 3 June 1880, died 7 January 1958, married ______ Lingle, also married L.F. Griffith.

14Jh. Beatrice Mercedes Higgs born 30 September 1882 in Omaha, Nebraska, died 25 July 1971, married Graham Tudor Tucker.

14Ji. Florence Lakota Higgs born 8 June 1884 in Pineridge, South Dakota, died 9 November 1957, married Frank Reinoehl, married also Mason McNutt.

14Jj. Edith Yeaton Higgs born 11 October 1885 in Pineridge, South Dakota, died 17 August 1945, married ______ Lingle, married also Mert Baalke.

Ruth Yeaton Tucker married second to ______ Wheeler. (Family legend is that after having ten children, she ran away with a sheepherder)

14K. Fanny Far Tucker born 2 September 1851, died 11 September 1851.
---
FIFTH GENERATION - PATERNAL LINES
Tucker Family
1799 - George Washington died, born 1732
28. William Tucker born March 1781 at St. Eustatius, died 12 February 1870, married 11 June 1803.
1634 - Curacao and St. Eustatius in the West Indies are seized by Dutch forces
1781 - French and Spanish naval forces take Tobago, St. Eustatius, Demerara, St. Kitts, Nevis, and Monserrat, but the British will restore their supremacy in the Caribbean next year.
29. Hester Louisa Tucker (Nea is the name she is called in the poem) born 20 August 1782, died 2 December 1817.
From book, "Tom Moore's Bermuda Poems" by William Zuill, page 16; "We come now to the romantic episode which has given Bermuda Tom Moore and Nea, names which to us come together as readily as, say Romeo and Juliet...
...met Mr. William Tucker and his charming young wife Hester who lived next door... It is this Hester Tucker who became the Nea of Moore's dreams and to whom he wrote thirteen Odes during his short winter at St George's."
excerpt--
ODES TO NEA
Written at Bermuda
"Nay, Tempt me not to love again,
There was a time when love was sweet;
Dear Nea! had I known thee then,
Our souls had not been slow to meet!
But oh! this weary heart hath run,
So many a time, the rounds of pain,
Not ev'n for thee, thou lovely one!
Would I endure such pangs again."
1804- Napolean, proclaimed emperor by Senate and Tribunate is crowned in the presence of Pope Pius VII in Paris.
Children:
28A. Eliza Karney Tucker born 13 August 1804, died 22 February 1805.
28B. Richard Thomas Tucker born 4 July 1805, Rector of St. Peter's.
28C. Tudor Tucker born 26 August 1806, died in September 1807.
28D. (William 4) Tudor Tucker born 12 February 1808, died 18 June 1890.
28E. James Tucker born 26 September 1810, died in July 1811.
28F. George Territt Tucker born 6 December 1811, died in July 1812.
28G. Territt Fraser Tucker 14 February 1813, died 5 February 1873, married 21 December 1836 to Susan Sears. Married 2nd 31 July 1841 to Sophia Susan Tucker born 19 July 1821, died 26 June 1893.

Children of Territt & Susan Sears:

28G1. Anne Elizabeth Tucker born 16 October 1837, died 1838.
28G2. James Sears Tucker born 18 June 1839, died 18 June 1839.
Children of Territt & Sophia Susan Tucker:
28G3. Henry Charles Tucker born 26 May 1842, died 12 September 1876, married 25 October 1875 to Theodosia Scott Cudlip
28G4. James Sears Tucker born 13 August 1843, died 11 April 1895, married Ella _______.
28G5. Agnes Theodosia Tucker born 9 January 1845, died 28 October 1853, died of yellow fever.
28G6. Susan Elizabeth Tucker born 26 October 1846, died in September 1915, married 23 July 1874 to Eugene Lyon Smith.
28G7. Louisa Saunders Tucker born 18 December 1848, died 10 June 1924, married 18 December 1867 to William Ralph Higinbotham.
28G8. Agnes Marjory Tucker born 5 November 1853, died 17 April 1863.
28G9. Samuel Reeve Hammond Tucker born 5 February 1858, married Mona Chippendale.
28G10. Catherine Mary Tucker born 27 October 1861, married 22 December 1890 to Frederick William Basham.


28H. Louisa Matilda Tucker born 14 July 1814, died 6 March 1895, married Frederick Saunders. She was living in Ceylon in 1860.

Child:

28I. Mary Tudor Tucker born 6 October 1815, married to General Wild who was Commander of the British Army during the Crimean War in Malta. He was stationed in Colombo, Ceylon in 1862.

Children:

28I1. Louisa Elizabeth Wild born 1838, died 3 January 1934 married Dr. Fred Augustus Hunter, Mayor of St. George's


Children:

28I1a. Joseph Stuart Hunter born November 1870, died 1 September 1877.
28I1b. Mary Hunter.
28I1c. Jane Hunter.


28I2. Harry Wild.
28I3. Flora Wild.

28J. Henry Karney Tucker born 25 November 1817, died 8 May 1843 of fever in Demerara.
Demerara is in the Caribbean, (as found under 1781)
William Tucker also married to Anna Eliza Trott.
---
SIXTH GENERATION - PATERNAL LINES
Tucker Family
1759 - Voltaire wrote "Candide", a philosophical novel
56. Dr. Richard Tucker died about 1780 at St. Eustatius, married 20 December 1759. Richard lived at Reevecourt, then known as "Mrs. Foote's House". He studied under Dr. Henry Watson in London; Physcian and trader at St. Eustatius; died there before Rodney sacked it.
57. Mary Foote daughter of Lt. John Foote.
Children:
56A. Theodia Tucker.

56B. Elizabeth Tucker born about 1761, died 27 December 1844 at Rosehill, married 6 February 1781 to Thomas Reeve.

56C. (William 5) Tucker born in March 1781 at St. Eustatius, died 12 February 1870. William married Hester Louisa "Nea" Tucker, daughter of Captain Tudor Tucker.

56D. Mary Tucker born 1762, married 29 March 1783 to Dr. Francis Forbes.

56E. Jehoaddan Tucker baptized 13 October 1773, died 1833, married 30 September 1794 to Lt. Andrew Fitz Herbert Evans.
---
SEVENTH GENERATION - PATERNAL LINES
Tucker Family
112. John (of Devon) Tucker died 25 October 1751. He probably married a Tucker, maybe a daughter of Col. Henry Tucker. His will, dated 25 October 1751 mentions Jonathan, Richard, Elizabeth, Frances and Jehridan.

113. Elizabeth (step-sister of husband) born about 1700. No further information.

Children:
112A. John Tucker, Dr. married 21 April 1765 to Rebecca Tucker.
112B. (Dr. Richard 6) Tucker died about 1780.
112C. Elizabeth Tucker married to ____________ North.
112D. Frances Tucker married Sam'l Cox.
112E. Jehridan Tucker married Honarable William Foote.
---
EIGHTH GENERATION - PATERNAL
Tucker Family
1694 - Queen Mary II of England, wife of William III died
224. John (the younger) Tucker born about 1670, died in August 1715, married about 1693. He died intestate; spoken of as lately deceased in his father's will, which bequeaths land and cash to John the Younger's son John and daughter Frances.
225. Honora Burton born about 1675, died after 1741. No further information.
Children:
---
NINTH GENERATION - PATERNAL LINES
Tucker Family
448. John Tucker, Captain born about 1645, died about 1715. So styled in deposition of his sister Mary, in John Tucker vs Paul Turner.

Known as "John the Elder", succeeded his father as secretary of the Bermuda Company. 1681 held office till disolution of the company in 1684. Will dated 30 August 1715, proved November 4. Mentions by name John, known as "John the Younger" & Henry.
1684 - Bermudas become crown colony
449. No information.
Children:
448A. (John 8) (the younger) Tucker born about 1670.
448B. Henry Tucker, Major born about 1672, died about 1726.
Children:

448B1. John (Jacky) Tucker born 1708, died 1770, married Mary Jennings.
Child:

448B1a. Henry Tucker born 1741, died 1795, married Frances Tucker, daughter of Henry Tucker and Ann Butterfield. Frances married 2nd the brother of her 1st husband, John Tucker.

Children:

448B1a1. Henry Tucker born 1769. He was assemblyman, Councilor, Secretary-1808.
448B1a2. Richard Jennings Tucker born 1781, died 1850, married 1811 to Frances Fowle Tucker, daughter of Robert Tucker and Frances Fowle.

1870 - Charles Dickens dies

Children:

448B1a2a. Henry Robert Tucker born 1870, married Mary Frances Tucker.

Child:

448B1a2aA. Robert Tucker born 1848, died 1950, his photograph at age 100 is in the Tucker House at St. Georges, Bermuda, married Mary Taylor.

448B1a2b. Thomas Rivers Tucker married Elizabeth Tucker.

Children:

448B1a2b1. Henry John Tucker born 1779, died 1845.
448B1a2b2. Robert Tucker.
448B1a2b3. Mary Frances Tucker married Henry Robert Tucker.

448B1a3. Elizabeth Tucker married Thomas Rivers Tucker.

448C. Sarah Tucker married first Nicholas Hinson, married second Daniel Hubbard.
448D. Rebecca Tucker married first ______Jenour, married second Reverand Arches Auchinleek.
---
TENTH GENERATION - PATERNAL LINES
Tucker Family
1658 - Oliver Cromwell died - succeeded as Lord Protector by his son Richard

896. Henry Tucker born about 1610, died about 1687, married about 1650.
897. Sarah Turner died about 1612, daughter of John Turner.

Children:
896A. (John 9) Tucker, Captain born about 1645. Will dated 30 August 1715.

896B. Mary Tucker born about 1657. In 1720, being 63, under oath, married John Darrell of Devon.

896C. Henry Tucker born 12 March 1658, married about 1681 to Jehrida Seymour daughter of Florentius Seymore, Governor of the Bermuda Company. Henry was brought from England as a child in 1662.

Children:

896C1. James (of Devonshire) Tucker.

1612 - A Bermuda colony is established by a shipload of men, women, and sailors who arrive on the islands that were claimed for England 3 years ago by the late Sir George Sommers, who died in 1610. The colony will have 600 settlers by 1614.

896D. Daniel Tucker born 11/9/54, married Anna Jenour.
896E. George Tucker baptized 28 September 1656.
896F. Jonathan Tucker died before 1699, married about 1699 to Edith Jennings.
---
ELEVENTH GENERATION - PATERNAL LINES
Tucker Family
1559 - Coronation fo Queen Elizabeth I
1792. George Tucker born about 1558, died about 1625, married first to Elizabeth Staughton of Clayford, Kent, daughter of Francis Staughton. George was of Gravesend-Milton.
One child was born to George and Elizabeth Staughton;
1. George Tucker born about 1595, died about 1644, married Elizabeth Sedley daughter of Richard Sedley.

Children:

1A. George Tucker IV born in 1622, died in 1662, married in1646 to Francis St. George. He was of Milton and Bermuda. When his father fled to Bermuda, he stayed to fight in the Royalist Cause, leaving when that was lost at Naseby, June 1645. Then he married and made for Bermuda on one of his father's ships. Commander of Paget Fort, 1658.

Children:

1Aa. St. George Tucker born 25 May 1651 in Bermuda, died 10 September 1710, buried in Warwick Parish, married Jane Hubbard, died 1717, daughter of Daniel Hubbard. He was a member of council, Bermuda. Also Clayford.

Children:

1Ab. John Tucker died unmarried. Secretary to Queen Anne, keeper of the state papers.
1Ac. Henry Tucker.
1Ad. William Tucker.
1Ae. Francis Tucker.

1B. Robert Tucker was of Sanford, Essex.
1C. Francis Tucker born in 1625, lived at St. Davis. In a Bermuda Company report of September 13, 1655, recommended to suceed his brother George as Govenor of Paget Fort. His name appears in Governor's Council (LEFROV)
1D. Elizabeth Tucker.
1793. Mary Darrell, daughter of John Darrell of Cale Hill, Kent.
Children:
1792A. John Tucker born about 1600, married Anne Proud.
1792B. Anne Tucker married John Best.
1792C. Hester Tucker.
1792D. Elizabeth Tucker.
1792E. Mary Tucker born 1602, died 1701.
1792F. (Henry 10) Tucker born about 1610.
1792G. Sarah Tucker.
1792H. Martha Tucker born 1619, married ______Freeman.
1792I. Robert Tucker born about 1605, married Susan Hyde daughter of Nickolas Hyde. Robert settled in Weymouth, Massachuttes. Ancestor of the New England Tuckers.

From, "THE BERMUDA HISTORICAL QUARTERLY", Volumn 15, page 155-

"THE ENGLISH BRANCH OF THE TUCKER FAMILY" by Harold Eeman

...sons of George Tucker, of Milton Manor in Kent, and his wife Mary Darrell, presently followed by their eldest brother, came to Bermuda to claim their inheritance in the islands, of which their uncle Daniel had been Governor. They settled there, and their descendants, as well as those of other Tucker and Darrell relatives, never ceased to play a prominent part in the history of the islands."
---
TWELFTH GENERATION - PATERNAL LINES
Tucker Family
1549 - Only the new Book of Prayer may be used in England (from May 20)
3584. George Tucker born about 1514, married about 1550, merchant-adventurer; a manor granted him by Queen Elizabeth in1572.
3585. Maria Hunter daughter of John Hunter of Ghent, Belgium, originally owner of lands near Gravesennd. The tyranny of Alva in Flanders drove the Hunters back to England.
1567 - Spain's Phillip II sends 20,000 troops under the duke of Alva to the Lowlands where they capture Antwerp as the Lowlanders prepare for an 80-year struggle to gain independence from the Spanish.
Children:
3584A. (George 11) Tucker born about 1558, died about 1625.

3584B. Daniel Tucker born about 1560, died 10 February 1625. A planter in Virginia when called to be Governor of Bermuda, May 1616.
3584C. Tobias Tucker born 1567, married Maria Fisher.
3584D. Nocholas Tucker born 1566, died 1603, married Anne Powell.
3584E. Hester Tucker born 1574, died 1612, married Richard Codwell.
3584F. Mansfield Tucker married Elizabeth __________.
3584G. Martha Tucker married Chas Freeman.
3584H. Ellizabeth Tucker born 1568, married Paula Stroud.
---
THIRTEENTH GENERATION - PATERNAL LINES
Tucker Family
1501 - Henry VII of England declines the pope's request to lead crusade against the Turks
7168. William Tucker born about 1492, married about 1516, of Thornley, Devon; Merchant-Adventurer, Tempus Henry VII.
7169. Isota Ashe daughter of William Ashe, also of Devon.
Children:
7168A. (George 12) Tucker born about 1514.
7168B. John Tucker married Elizabeth Kempe.
7168C. Isota Tucker married William Barbebin.
7168D. Thomas Tucker married Joanna Cartilon.


1533 - Henry VII secretly marries Anne Boleyn
---
EARLY TUCKER FAMILY LINEAGE
There is a hiatus of several generations that is, from 1100 to 1492, within which period no Tucker has been able to trace their exact ancestry. However, the arms on the memorial of Henry Tucker, in St. Peter's Church, Bermuda, are the same as those granted John Tucker, thus confirming the descent.
1100 - England's William II Rufus dies August 2 at age 44 after being struck by an arrow while hunting in the New Forest. Sir Walter Tyrel is accused of having shot the arrow but flees the country to avoid a trial and then protests his innocence (Ralph of Aix is also accused). Also in the royal hunting train is William's 32-year-old brother who assumes the throne as Henry I to begin a 35-year reign.
Stephen Tucker in 1100 permitted to wear his hat in the presence of Henry I; received estate of Lamertin, near Tavistock.
John Tucker came to England with the Conquqeor in 1066, granted arms by him in 1079; assigned estate of South Tavistock, County Devon, married the widow of Trecareth who was supposed to have been the proprietor before the conquest (Domesday).
1086 - THE DOMESDAY BOOK compiled on orders from England's William I lists the assets of landowners to provide a basis for taxation and administration. The royal commissioners oblige the landowners to give information under oath as to the size of every piece of land, its resources, and its ownership-past and present.