ANCESTORS OF
EVELENE ESTEY WOODS GLESS
FIRST GENERATION - PATERNAL LINES
Estey Family
1937-Amelia Earhart lost on Pacific flight
1. Evelene Estey was born 9 July 1905 at Spokane, Washington, died 12 April 1972, of heart failure due to old Rhumatic heart disease, buried in Bend, Oregon.
Evelene went to college at Ashland, Oregon, a teacher's school for one year. Then she taught for a year and then went back to school for another year. In those days you could receive a teaching lifetime certificate after just one year of school. After her two years of school, she began teaching at what was known as "The Stanley Ranch" in Central Oregon. Her uncle, George Murphy, Sr., helped her buy a nice little car.
Evelene married first on 26 December 1931, in Bend, Oregon, to Richard Alexander Woods born 7 January 1903 in Augusta, Montana. His parents were John Clement Woods & Romanie Jinnette Wright. Richard died after catching cold while planting gladious bulbs. This was before any of the miracle drugs. Each day he was a little worse, and died by the week's end on 21 May 1938. Evelene looked into Welfare but when she was told that each of her children could have only one pair of shoes per year, decided against that. She owned a house which was on two acres of land, with a cow, a pig and some chickens. Then she went back to teaching in a two room country school. She earned $900.00 per school year, or a hundred dollars a month. So for the three summer months she arranged to charge gas at the nearby Graffenberger Brothers Gas Station. And food was purchased on charge, too, with Jack, at the corner country store. Then over the following nine months she paid back on the charges and so the pattern continued for several years.
Children by first husband, who were born in Bend, Oregon.
1A. Jennie Lee Woods (DAR #680429) born 25 April 1933 at home on her Great Aunt Lucy Murphy's birthday. When Jennie was young, many birthday's were celebrated together with her Aunt Lucy.

1B. John Richard Woods born 27 November 1936 at the Mayne Nursing home Thanksgiving weekend. Evelene had fixed a big Thanksgiving dinner for the whole family. Then it was time and she went to the Nursing Home to have her baby.
Evelene married second on 5 November 1942, in Portland, Oregon, to Louis Henry Gless born 25 January 1884 in Iowa. No Issue.
Louis Henry Gless left home in Iowa at a young age of about 17 years. He joined the Navy as an enlisted man. He was with the "Great White Fleet" when it went into China. Later he homesteaded in Central Oregon, worked as a logger and then became a machinist at Brooks-Scanlon Lumber Mill in Bend, Oregon.

Louis and Evelene met when he came to her house. He was looking for a live-in housekeeper. Some of the neighbors thought Evelene might like that kind of work so that she could stay home with her children. Evelene did not want to do that kind of work. So Louis asked her to go to the movies.

Louis Henry Gless, Jennie Lee & John Richard Woods
and Evelene Estey Woods Gless
---
SECOND GENERATION - PATERNAL LINES
Estey Family
1920- 18th Ammendment to U.S. Constitution goes into effect: Prohibition throughout U.S.
2. Charles Miles Estey, Jr. was born at New Brunswick, Canada on 27 August 1864, died 1 July 1922. He was married first on 30 January 1884 in Wilmot, Carleton County, New Brunswick, Canada to Matilda Simmonson who died before the 1900 census was taken at the family home in Spokane, Washington, 15 June 1900. Charles and Matilda joined the United Church in Weston on 28 March 1888. They were baptised in this church on 14 December 1888 and "removed from district" in 1890, probably when they moved to the United States. Charles was always called "CM", never Charles or Charlie!
He like to have bread and butter with jam after every meal, even after a good desert. He worked for a while at the Anaconda Copper Mines, which were near Butte, Montana.

Then he owned and operated a meat market in Spokane, Washington. CM was going to town when a truck hit his wagon, threw him off and the wagon ran over him. He died a few days later.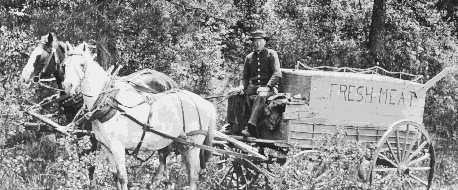 Charles Miles Estey
From Spokane Daily Chronicle, Monday July 3, 1922, Estey - "The funeral of Charles Miles Estey, age 57, who died at the Deaconess hospital Saturday, will be held this afternoon at 3 o'clock from Smith and Co's parlors. the Rev. J. Edwards will officiate. He is survived by his wife, Laura; a daughter, Eveline; and sons Howard, Ernest, Miles and Frank all at the home at Opportunity."
Children by first wife, who were born in Canada.

2A. Albina Estey born January 1885

2B. Frank Leland Estey born 21 December 1886 (census 1900), married Luella May Vaughn, had two girls, Grace and Matilda. They lived in Iowa.

2C. Miles Estey born May 1888. Spokane, Washington, married Clara _____. Miles lived near an airport so when Charles, Laura and their children visited Miles, the children saw their first airplane.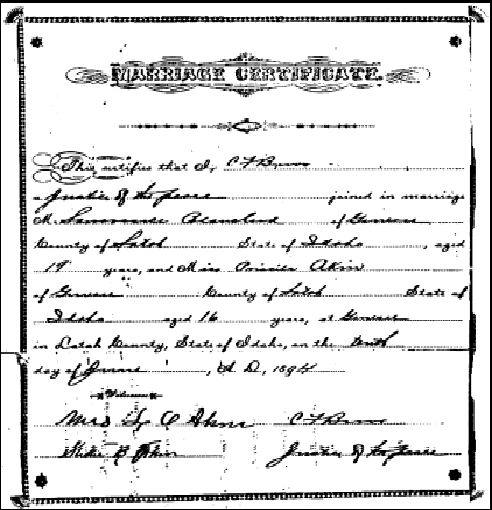 3. Pricilla (never liked her name, chose to be called Laura) Akin was born 25 December 1878, the child of Edward Akin & Lucinda Buckley, died 14 August 1923, of carcinoma of uterus. Laura was first married to Lawrence Blanchard 10 June 1894 in Idaho when she was sixteen. There was a daughter, named Grace, born of this marriage who died as an infant. This marriage ended in divorce 27 October 1903. However, when the 1900 census was taken Laura was enumerated, working as a servant. She was in the household of Adolph Leroy on 12 June 1900 in Spokane County, Washington.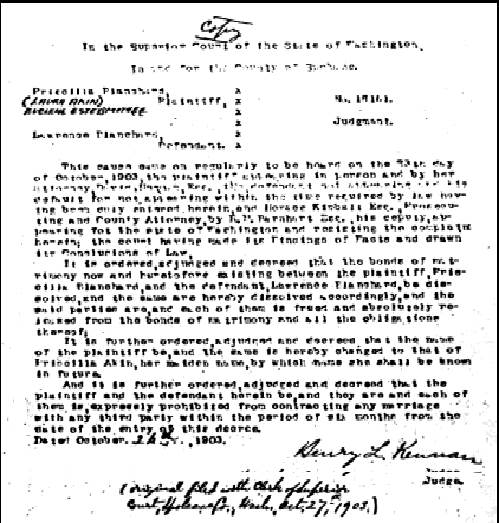 Charles & Laura, as second marriage for each, were married on 17 August 1904 in Spokane, Washington.
Laura was a very good cook. Her son, Howard, remembers that she liked to cook "fancy". He remembers her standing on the porch brushing her clothes with a brush before starting to fix any meal. She canned a lot of food, made Lady Baltimore and other special cakes, & bottled rootbeer.
On holidays people came in or they went on picnics to the Spokane River or to Liberty Lake. For Christmas Laura would fix a big dinner, The kids each hung their socks. Santa gifts would be books, sleds, gloves, tinker toys, or maybe erector sets. Evelene played with the neighbor girls. They liked to cut dolls out of the Monkey (Montgomery) Wards Catalog. They had store bought paper dolls, too.
Children of second marriage, who were born in Spokane,Washington.

2D. (Evelene 1) Estey born 9 July 1904 died 12 April

John Ernest Elton & Howard Riverton Estey

1972 in Bend Oregon after being ill for about ten days. She was the oldest child and at first was unnamed. Once, during the first few days, When she was crying, her father walked and held her while singing the song, "Dear Evelenia, Sweet Evelenia". She stopped crying and so was named Evelene. She had no middle name. As a young child she had Rhuematic Fever which damaged her heart. It was not unusual for children in those days to wait a few years before attending school. She and her brothers had to walk several miles each way to school. All three children began their school years at the age of eight at Vera School. The school was a three story brick or stone building that contained both grade and high school.

2E. Howard Riverton Estey born 21 July 1908.

The earliest memory Howard had was of being sick on the Fourth of July. His folks gave him some fire crackers and he played with them in bed. Howard had chores in the summer, picking berries, helping to irrigate, and he had to hoe in the garden. He had a tricycle when he was little. There were always kids around with whom to play, where ever they lived. They played Fox & Goose, Run Sheep Run, Hide and Seek, rolled hoops, they played card games and checkers.

2F. John Ernest Elton Estey born 6 November 1910. Father liked to read & always read to them at night. They especially liked "The Count of Monte Cristo". The family lived in five different houses, one was downtown, the others were out in the valley.

They had chickens, 6 or 7 Taloose geese & horses, one little horse was just for Ernie. The geese were for plucking goose down for their pillows. Ernie joined the Marines sometime after his sister went off to college and his brother's marriage.

Howard, Ernie & Evelene Estey, about 1912

After their parents death, the three kids, Evelene age 19, Howard age 15 & Ernie age 13, then went to live with their Aunt Lucy and Uncle George Murphy in Bend, Oregon. Lucy was a sister to Laura. Howard and Ernie stayed out back in the bunkhouse. They thought that their uncle was wealthy because he had a truck. Uncle George gave Evelene $10.00 and bought her a bus ticket to Ashland, in southern Oregon where there was a teachers college.

Uncle George told Evelene that if she could find a job she could stay in school, if not to use the money for a bus ticket home. So Evelene got a job staying with an old lady who wanted someone in her house. Evelene said that she was very ashamed of her outdated clothes. So she skipped lunches and saved the money to buy a coat to cover up her out of style clothing. She went to school for a year. Then she taught school for a year in the Brownsville area of the Willamette Valley near Eugene, Oregon. After another year of school , she had several teaching positions in Central Oregon in Country Schools.

1925 - The Charleston becomes the fashionable dance

2E. Howard Riverton Estey married on 25 December 1925 in Bend, Oregon to Vera Hildegarde Call born 24 September 1905 in Hartsville, Massachutess. Howard & Vera met at a pie social at Cuckoo Ridge Dance Hall, Deschutes County, Oregon. Howard bought her pie, but she hadn't made it, Iris Trotter had made the pie. Evelene had introduced Howard & Vera. They were married Christmas Day. After the wedding they went to see a movie, "Seventh Heaven" with Charlie Farrow and Janet Gaynor. Going to the movies was a special thing to do. When they got home from the movie they found Charlie Call, Vera's brother, and Ernie, Howard's brother, under their bed giggling. They dragged them out. There was a "Shiveree" for them that night, too. The people brought all sorts of noise makers from tin horns and cow bells to dish pans. There was a lot of noise!! Their friends also brought things to eat. Then on New Year's Eve there was a shower for them at the Pine orest Grange Hall in Bend, Oregon. They grabbed Howard and rode him around the room on a fence rail. They held him up high in the air and went around and around & around. (for more information on the following children see the appendix on page 274)

Children:

2E1. Arletta June Estey, called June, born 6 June 1927 in Bend, Oregon.
Child:
2E1a. Timothy Louis Estey born 25 April 1948. (see 2E12)

June married 25 July 1950 in White Salmon, Washington to Doyal Dempsey Bowden born 25 January 1929 in Monticello, Georgia, son of Oscar Grady Bowden & Lucy Coile Harper.

Children :

2E1b. Michelle Ann Bowden born 2 May 1951 in Madison, Georgia, marrried 26 June 1970 to James Richard Fair born 10 October 1947, son of George Calvin Fair and Margaret (called Peggy) Jean Bruhn.

Child:

2E1b1. Patricia Lynn Fair born 14 April 1972 in Great Falls, Montana.

2E1c. Russell Neil Bowden born 11 March 1953 in Macon, Georgia, married 9 October 1979 in Culloden, Georgia to Joanie Carpenter born 9 June 1959, daughter of Eugene Carpenter.

Children:

2E1c1. Branden Neil Bowden born 29 March 1982 in Macon, Georgia.

2E1c2. Courtney Elyse Bowden born 26 April 1985 in Macon, Georgia.

2E1d. Karen Lynne Bowden born 1 January 1959 in Fort Valley, Georgia, married 7 June 1986 at Stone Mountain, Georgia, to John Rene' Bellanca born 28 October 1959 in Quosett, Rhode Island, son of John Eiliott Bellanca and Betty Ruth Robinson.

2E1e. Scott Howard Bowden born 16 May 1962 in Macon, Georgia.

2E2. Elizabeth Ann Estey born 27 September 1929 in Montery, Massachusetess, married 9 February 1950 to Ronald Alan Dornacher born 16 September 1930 in Hinsdale, Illinois.

Children all born in Hood River, Oregon:

2E2a. Michael William Howard Dornacher born 14 October 1950, married 1 April 1970 to Karla Sue Smallwood born 10 October 1951 in Illinois.

Child born in Hood River, Oregon:

2E2a1. Michelle Lee Dornacher born 16 October 1972.

2E2b. Ronald Alan Dornacher born 31 October 1951, married 16 October 1971 to Kay Brumbaugh born 17 January 1951.

Child born in Salem, Oregon:

2E2b1. Nathaniel Alan Dornacher born 4 November 1986.

2E2c. David Martin Dornacher born 10 June 1953, died 29 August 1977 in Hood River, Oregon, buried at Underwood, WA.

2E2d. Debra Lorraine Dornacher born 11 March 1955, married first in 1972 to John Wingerter.

Child born at Camp Lejeune, North Carolina:


2E2d1. Joshua Lee Wingerter born 13 September 1973.


Debra Lorraine Dornacher married second to David Frederick in 1977.
Children born in Washington State:


2E2d2. Deon Janae Frederick born 4 December 1978.
2E2d3. Cory Michael Frederick born 21 May 1982.

2E2e. Cindy Lee Dornacher born 22 May 1957, married 12 June 1978 in Reno, Nevada to Kerry Lauritsen born 25 March 1950.

Children born in Portland, Oregon:


2E2e1. Neal Elliot Lauritsen born 12 November 1982.
2E2e2. Monica Lynn Lauritsen born 26 January 1985.

2E3. Charles Miles Estey born 4 August 1931, married first to Clara Meuender, second to Naomi Smith 22 May 1956.

Children of Charles and Naomi:


2E3a. Vera Estelle Estey born 14 March 1960.
2E3b. Charles Vernon Estey born 29 April 1962, married Lisa Upshaw.

2E3c. Valorie Sue Estey born 13 May 1966, married 16 February 1985 to Robert Clark born 30 June 1964 in El Cajon, California.

Children:


2E3c1. Jamie Ray Clark born 26 August 1985 at Clackamas, OR.
2E3c2. Brian Elliot Clark born 25 July 1985 at Portland, Oregon.

2E3d. Vanessa Marie Estey born 30 August 1967.

2E4. Harry Paul Estey born 28 July 1933 in Starkville, New York, married first on 11 May 1957 to Wilma Fay Belvins divorced.

Children all born at Hood River, Oregon which is Hood River County:


2E4a. Brett Richard Estey born 6 January 1958.
2E4b. Crystal Lee Estey born 4 January 1959.
2E4c. John Paul Howard Estey born 24 October 1960.

Harry Paul Estey married second 13 February 1981 to Cornelia A. Dorthea Herbers.

2E5. Robert Gene Estey born 1 June 1935 in Starksville, NY, married 9 November 1964 Thelma Jean Howe born 15 January 1938.

Children:


2E5a. Grant Robert Estey died 7 July 1968 in Hood River, Oregon.
2E5b. Stacy Lane Estey born 8 February 1968 in Hood River, Oregon.
2E5c. Carrie Jean Estey born 13 November 1970 in Hood River, OR.

1936 - Floods sweep Johnstown, Pennsylvania

2E6. Daniel Howard Estey born 12 August 1936, married 8 June 1957 to Geradine Elaine Lively born 2 December 1936 Buhl, Idaho.

Children:

2E6a. David Wayne Estey born 22 April 1959, died 22 September 1960.

2E6b. Richard Howard Estey born 10 September 1960 at Hood River, Oregon, married 4 October 1980 at Carson, Washington to Jeanna M. Cummings born 26 September 1961.

2E6c. Victoria Kay Estey born 10 September 1960 at Hood River, Oregon, married 11 August 1978 North Boneville, WA to Charles William Onthank born 2 April 1957 at Fort Hood, Texas.

Children born at White Salmon, Washington:


2E6c1. Charles William Onthank born 19 August 1980.
2E6c2. Robert Shawn Onthank born 4 June 1982.

2E6d. Monte Russell Estey born 13 December 1962, married 27 August 1983 to Lisa M. Geschwint born 30 August 1962.

2E7. Mary Louise Estey born 10 December 1937 at Starkville, New York, married to Laurence Julius Ernest, Jr., divorced September 1989.

Children born at Renton, Washington:

2E7a. Beth Celeste Ernest born 21 December 1956, married 6 November 1982 in Seattle, Washington to Scott John Hilder.

2E7b. Julie Colleen Ernest born 12 March 1958, married 1 March 1980 in Renton, Washington to Khoss Babaei.

Children, twins born in Kirkland, Washington:


1. Sherin Babaei born 11 February 1988.
2. Susann Babaei born 11 February 1988.

2E7c. Matthew Laurence Ernest born 12 April 1959, married 13 August 1983 to Cynthia Rose Hayden born 21 May 1957.

Children born at Bellevue, Washington:


1. Michelle Marie Ernest born 3 September 1987.
2. Katie Ann Ernest born 5 October 1988.

1939 - film -"Gone With the Wind:

2E8. James Ernest Estey born 11 July 1939, married first to Rosalie Kelly.
Children:


2E8a. Cathy Linn Estey born 3 January 1961 at The Dalles, Oregon, married Steven Rosa 13 June 1981 at Daly City, California.

Children all born Mather AFB, California:


2E8a1. Crystal Ann Rosa born 27 October 1982.
2E8a2. Jenny Lee Rosa born 6 December 1984.
2E8a3. Stefanie Michelle Rosa born 20 October 1987.




2E8b. Kimberly Dawn Estey born 14 August 1962 at Portland, Oregon, married 11 July 1981 in White Salmon, Washington to Kenneth Richard Martin born 4 September 1961.

Child:


2E8b1. Daniel William Martin born 2 April 1984 at Travis AFB, California.

James Ernest Estey married second to Luella Harding Carlson who adopted Cathy and Kim, the above mentioned children. Luella was born 9 December 1943 In Newrockford, North Dakota.

Children born in Portland, Oregon :

2E8c. Shelly Mae Estey born 21 September 1962, married 22 September 1984 to David Scott Austin born 7 September 1961 at White Salmon, Washington.


2E8d. Jodi Rae Estey born 26 May 1964, married on 11 July 1987 at Trout Lake, Washington to Guy Duane Huffsmith born 28 May 1962

2E8e. Larry Dean Estey born 2 February 1966 at Hood River, Oregon.

2E9. Thomas Allen Estey born 22 June 1941, married first to Shirley Thomas.


1941, December 7 - Japanese opened hostilities with a surprise attack on Hawaii


Children:


2E9a. Martin Leroy Estey born and died in 1959 at White Salmon, WA.
2E9b. Martina Louise Estey born and died in 1960 At Redwoods City, CA
2E9c. Shiela Marie Estey born 14 July 1961 at San Jose, California.
2E9d. Nathan Allen Estey born 1964 in California.


Thomas Allen Estey married second to Altha Viola Philpott.
Children:


2E9c. Richard Estey born 23 October 1969 in San Francisco, California.
2E9d. Ethan Riverton Estey born 20 July 1972 in Campbell, California.

2E10. Nancy Evelene Estey born 6 September 1944, married in 1964 to Merlin B. Yarnell born 7 July 1935, divorced in 1987.

Children:

2E10a. Sheryl Marie Yarnell born 24 March 1958, married in 1983 to Fredrick Michael Shafer.

Children:


2E10a1. Kimberly Shafer born 15 August 1983.
2E10a2. Fredrick Robert Shafer born 17 November 1984.
2E10a3. Jonathan Michael Shafer born 17 December 1985.


2E10b. Debra Kay Yarnell born 15 April 1961.
2E10c. Randall Wayne Yarnell born 30 September 1965.
2E10d. Andrew Timothy Yarnell born 20 November 1966.

2E11. Marjorie Laura Estey born 18 January 1946 at Little Falls, NY married 8 January 1967 to Ronald Dean Sutton born 4 October 1941.

Children:


2E11a. Ronald Lance Sutton born 14 May 1969 at Andrews AFB, MD.
2E11b. Barbara Louise Sutton born 28 May 1972 in Texas.

2E12. Timothy Louis born 25 April 1948 (adopted), married 12 December 1969 in Fullerton, California, to Christine Aguilar born 15 May 1951

Children:


2E12a. Aaron Louis Estey born 31 July 1973 in Hood River, Oregon.
2E12b. Howard Louis Estey born 16 April 1976 in Hood River, Oregon.




1950 - North Korea invades south Korea, 25 June


2E13. Richard Antone Estey born 17 January 1950, married 13 April 1975 to Elizabeth Kelso born 19 November 1954.
Children, all born in Underwood, Washington:


2E13a. Aurelia Angelica Estey born 5 October 1980.
2E13b. John Gabriel Estey born 2 October 1983.
2E13c. Esther Ellyn Evelyn Estey born 2 August 1986

2F. John Ernest Elton Estey (Charles2) died 24 November 1957 in Oakland, California. Ernie was a truck mechanic, and the truck he was working on, exploded.

John Ernest Elton Estey married first to Treva Harrington in 1933.

Children:


2F1. Lucille Edith Estey born 19 March 1934, married Gerhart Hertel.
Children:


2F1a. Gary Hertel born 1957.
2F1b. Alisa Hertel born 1959.
2F1c. Cindy Hertel born 1960.
2F1d. Vanessa Hertel born 1963.
2F1e. Sarah Hertel born 1964.


2F2. Howard Ernest (Buddy) Estey born January 1937, married Carol Dodge.
Children:


2F2a. Debra Lynn Estey.
2F2b. Susan Lynette Estey.

2F3. Mark David Estey born 26 December 1940, married Mary Pat Dodge.

John Ernest Elton Estey married second to Wave Neel.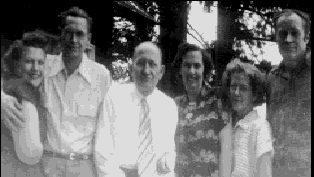 Wave & Ernest Estey, Louis & Evelene Gless and Vera & Howard Estey, about 1950
---
THIRD GENERATION -PATERNAL LINES
Estey Family
1858-Ottawa becomes capital of Canada
4. Charles Miles Estey, Sr. born 16 December 1838 in Canada, died 28 March 1864, which was before his son, (Charles2) was born, married 19 June 1861.
5. Caroline Albina Briggs born about 1843 in Canada, died 18 February 1884.
Children:
Caroline Briggs married second on 22 January 1869 to George Simmons who died 20 March 1881 aged 44 years. They had a child named Ephraim who died 10 February 1881 aged three years.
---
FOURTH GENERATION - PATERNAL LINES
Estey Family
1843- the cojoined Siamese twins Chang and Eng Bunker (1811-1874) marry the Misses Sarah and Adelaide Yates
8. John H. Estey born 3 December 1810, died 5 January 1886, married first - 9. Hepzibah Stickney born about 1816 in New Brunswick. (No further information) Children:
8A. (Charles 3) M. Estey born 16 December 1838.
8B. Richard Estey born about 1840.
8C. Thomas Estey born about 1842.
8D. Jarvis David Estey born about 1843.
8E. John E. Estey.
8F. Albert Estey born about 1850.

John H. Estey married second to Sarah True.

---
FOURTH GENERATION - PATERNAL LINES
Briggs Family
10. Elijah Briggs born about 1807, married on 7 January 1837.
11. Joanne Dunne.

Children:

10A. Robert Briggs.
10B. Elijah Briggs 10C. Ephraim Briggs.
10D. Anne Elizabeth Briggs.
10E. George Frederick Briggs.
10F. (Caroline 3) Albina Briggs.
10G. Elisha Briggs born about 1866 10H. Samuel Briggs.
10I. Sarah Briggs.
10J. James Briggs born about 1851.
10K. Lyda Briggs born about 1853.
10L. Benjamine Briggs born about 1855.
10M. Evaria Briggs born about 1860.
---
FIFTH GENERATION - PATERNAL LINES
Estey Family
1809- Napoleon divorces Josephine

16. Endicott Estey born 9 December 1777, in Kingsclear, New Brunswick, Canada, died 16 August 1848.

17. Hannah Churchill. (No further information on Hannah.)
Children:
16A. William Beverly Estey born 10 November 1804, died 17 October 1876, married Hannah Churchill

16B. Mary Elizabeth Estey born 17 December 1806, died 30 November 1884, married George Everet

16C. Hannah Estey born 1 January 1808
16D. (John 4) H. Estey born 3 December 1810, died 5 January 1886, married Hepzibah Stickney.

16E. Jarvis B. Estey born 19 February 1813, died 29 December 1885, married Sarah Kitchen
16F. Charlotte Estey born 29 May 1815, married Zebedee Estey
16G. Jonathan Estey born 6 July 1817, died 8 February 1889, married (1)Sarah Mills, (2) Syretha Jane Burpee, (3) Mary Corliss

16H. Charles Estey born 30 August 1819, died 7 April 1876, married Mary Ann Kitchen
16I. Thomas E. Estey born 3 November 1821, married Pricilla Dunphy
16J. Stephen A. Estey born 29 December 1822, died 7 April 1903, married Elizabeth Vandine.
---
FIFTH GENERATION - PATERNAL LINES
Briggs Family
20. Abrial Briggs. (No further information)

21. Elizabeth (Nee Unknown).
child:
---
SIXTH GENERATION - PATERNAL LINES
Estey Family
1762-First British settlement at Maugerville, New Brunswick
32. John Estey born 14 December 1742 in Rowley, Massachusetts, died about 1824, married 28 August 1769 in Maugerville, Canada. John moved with his father and brothers, Zebulon & Richard, and sister Sarah who married Thomas Barker. They moved from Rowley, Massachusetts to Maugerville, New Brunswick, Canada in 1764.
"The River St. John" by Rev. Wm. Raymond
published in 1910, pages 334-5:
"On 15 January 1765 on Captain Francis Peabody's schooner, came Zebulon Estey to Maugerville. He paid 12 shillings passage money from Newburyport to St. John and 13s 6d for `his club of Cyder' on the voyage. Richard Estey and Thomas Barker built a saw-mill on a small creek near Middle Island. (After 1765.) They sold it in 1779 - near Maugerville. Richard Estey signed a church covenant for a distinct church society. Many moved from Maugerville due to the annoyance of the spring freshets. Zebulon Estey moved to Gagetown. Some went across the river to the township of Burton. These included Israel Estey, Moses Estey and Amos Estey."
33. Molly Hartt, daughter of Jonathan & Mercy (Hawkes) Hartt of Lynn, Massachusetts. (No further information on Molly.)
Children:

32A. Sarah Estey born 29 August 1770.
32B. John Estey born 17 October 1771, died 1837.
32C. Mary Estey born 7 January 1773, died 29 May 1777.
32D. Ruth Estey born 18 January 1775, died 13 November 1880.
32E. Mary (Mercy) Estey born 29 May 1776, died 10 August 1779.
32F. (Endicott 5) Estey born 9 December 1777, died 16 August 1848.
32G. Aaron Estey born 16 May 1779.
32H. Jonathan Estey born 12 March 1781.
32I. Richard Estey born 27 May 1783, died 10 August 1806.
32J. Charlotte Estey born 10 March 1785.
32K. William Estey born 11 January 1787, died 1870, married Sarah____.
32L. Elizabeth Estey born 20 June 1789.
32M. Abel Estey born 25 September 1791.
---
SEVENTH GENERATION - PATERNAL LINES
Estey Family
1782 - James Watts invents double-acting rotary steam engine
64. Richard Estey born 7 April 1706 in Topsfield, Massachusetts, died March 1791, married 7 May 1728 in Topsfield, Massachusetts. Richard and some of his children, by name, Richard, Zebulon, John, and Sarah & husband moved from Rowley, Massachusetts to Maugerville, New Brunswick, Canada in 1764. They went to a settlement lately formed by New England colonists on the banks of the St. John River, New Brunswick, called Maugerville.
65. Ruth Fiske born 18 October 1709, daughter of William & Mary Fiske of Ipswich, Massachusetts.
Children:
64A. Richard Estey born 9 February 1728 in Rowley, Massachusetts, died about 1785, married 7 February 1750 in Rowley, to Hannah Hazen born 7 January 1727/8.

Children:


64Aa. Ruth Estey born 1 March 1751/2

64Ab. Israel Estey born 9 August 1753, died in Douglas, Nebraska 12 August 1831, married to Salome Burpee.

Children:


64Ab1. Isaac Estey born October 1780, died 5 October 1867, married to Lucy Boone.
64Ab2. William Estey born 20 June 1785, married Eliza Lyons.
64Ab3. Ruth.
64Ab4. ___________ married Peter Haines.


64Ac. Moses Estey born 12 May 1755, died May 1840, married Sarah Howland.
Children:


64Ac1. Stephen Estey born 12 June 1786, died 12 April 1858, married Elizabeth Pond.
64Ac2. Samuel Estey.
64Ac3. Richard Estey.
64Ac4. Moses Estey.
64Ac5. Susan Estey.
64Ac6. Sarah Estey.
64Ac7. Mary Estey.
64Ac8. Mary Estey.
64Ac9. Olive Estey.
64Ac10. Hannah Estey married Wm. Pond.
64Ac11. Naomi Estey married John Pond.

64Ad. Richard Estey born 14 March 1757.
64Ae. Amos Estey born 26 August 1759, died 13 November 1833.
64Af. Hannah Estey born 13 June 1761.
64Ag. Jesse Estey born 17 November 1763.
64Ah. Rhoda Estey born 25 November 1765.
64Ai. Abigail Estey born 26 August 1767.

64B. Zebulon Estey born 5 July 1730.
64C. Sarah Estey born 1 March 1734 in Rowley, Massachusetts, died October 1736, married 7 December 1761 in Ipswich, Massachusetts to Thomas Barker.

64D. Sarah Estey born 12 October 1736 in Rowley, Massachesetts.

64E. Zebulon Estey born 14 December 1742 in Rowley, Massachusetts, died 10 October 1826, married 8 August 1765 in Newbury, Massachusetts to Mary (or Molly) Brown.

Children:


64Ea. Molly Estey born 5 July 1767, died 5 June 1844.
64Eb. Susanna Estey born 2 April 1769.
64Ec. Nehemiah Estey born 17 February 1771, died 11 February 1855 married Margaret Ring.
64Ed. Betsy Brown Estey born 11 November 1772.
64Ee. Dorothy Estey born 23 March 1774, died 11 August 1843.
64Ef. Ruth Estey born 11 August 1775.
64Eg. Zebulon born 13 July 1778.
64Eh. Lucy Estey born 7 November 1780.
64Ei. Thomas Estey born 9 February 1784.
64Ej. Phoebe Estey born 3 February 1787.


64F. (John 6) Estey born 14 December 1742 in Rowley, Massachusetts.
64G. Ruth Estey born 10 May 1746
64H. Susannah Estey died 10 November 1736
---
EIGHTH GENERATION - PATERNAL LINES
Estey Family
128. Issac Estey born about 1656 in Topsfield, Massachusetts, died

before 3 May 1714, in Topsfield, Massachusetts, married on 14 October 1689. Issac's name appears with others who took the oath of allegance and fidelity to Charles II in January 1677. In 1681 his minister's rate was seven shillings and one penny. He left a will dated 16 March 1713/14 which was probated 3 May 1714.

1689 - Massacre of French settlers at Lachine, near Montreal, Canada, by Iroquois Indians - in July]




129. Abigail Kimball born 22 March 1667, daughter of John and Mary (Bradstreet) Kimball. Married second 25 April 1718 to William Poole.

Children:
128A. Mary Estey baptized 15 February 1691/2
128B. Abigail Estey baptized 8 January 1692/3
128C. Sarah Estey born 4 October 1694
128D. Isaac Estey born 20 November 1696
128E. Aaron Estey born 16 February 1698/9
128F. Jacob Estey born 28 June 1700
128G. Hannah Estey born 18 May 1702
128H. (Richard 7) Estey born 7 April 1706 in Topsfield, Massachusetts
128I. Rebecca Estey baptized 8 August 1708
128J. Moses Estey baptized 6 September 1712
---
NINTH GENERATION - PATERNAL LINES
Estey Family
1691 - Massachusetts absorbs Plymouth Colony, and is given new charter]
256. Isaac Estey born 27 November 1627 in Preston, England, died about 1712 in Topsfield, Massachusetts married before 1656.
From "About Towne", a quarterly Newsletter, Jan/Feb 1986-page 4:

"...Rev. Samuel Parris, formerly a merchant in the West Indies, had in his possession West Indian slaves, one by the name of Tituba. The girls in the winter of 1691-2 whiled away the evenings by practising palmistry and magic at the parsonage. Later as a result of the witchcraft lore voodooism teachings of Tituba and the already prevalent universal belief in witchcraft, the girls exhibited fits and convulsions in the presence of other people. The villiage physcian, Dr. Griggs, pronounced the girls bewitched. The ten young girls accused various people, including Tituba, of bewitching them.

Hysteria spread rapidly and within four months hundreds were arrested and tried, nineteen hanged, and one man was pressed to death. On April 22, 1692, Mary Easty, the wife of Isaac Easty, was delivered to the jail keeper in Salem. With others she was charged with "High Suspicion of Sundry Acts of Witchcraft..." On May 18th Mary Easty was released, but two days later the girls were seized with terrible convulsions and accused Mary Easty again... After midnight she was aroused from sleep, chained and taken from her home and family, and placed in the prison in Salem... She was carried to execution with seven others on the 22nd day of September 1692.

The end of witchcraft in America came in May of 1693 when Governor William Phips ordered the release from prison of all then held on the charge of witchcraft."
From (Essex County Archives, Salem - Witchcraft Vol. 1 Page 177) (Examination of Mary Easty)

"The Examination of Mary Eastie. At a Court held at Salem village 22. Apr. 1692 By the Hon. John Hathorn & Jonathan Corwin. At the bringing in of the the accused severall fell into fits. Doth this woman hurt you? Many mouths were stopt, & several other fits seized them..."
257. Mary Towne born 24 August 1634 in Yarmouth, England. She was hanged 22 September 1692 in Salem, Massachusetts. (See section on Towne Family for further information)
Children:
256A. (Isaac 8) Estey born about 1656, married Abigail Kimball

256B. Joseph Estey born 5 February 1657, died 25 October 1739 in Stoughton, Massachusetts, married 2 June, 1682 to Jane Steward

256C. Sarah Estey born 30 June 1660, married first to Moses Gill, second to ________ Ireland.

256D. John Estey born 2 January 1662, died 1720, married 31 May 1688 to Mary Dorman, second to Hannah _______.

256E. Hannah Estey born about 1667

256F. Benjamine Estey born 29 April 1669, died 28 March 1752, married first 9 April 1702 to Elizabeth Goodhue, second 13 December 1716 to Mary Holland.

256G. Samuel Estey born 25 March 1672, died before 1709.

256H. Jacob Estey born 24 January 1674, died 3 October 1732, married 25 March 1710 to Lydia Elliot.

256I. Joshua Estey born 2 July 1678, died before 25 April 1718, married Abigail Stanley.
HISTORY OF ESSEX COUNTY, MASSACHUSETTS 1888 by D.H. Hurd, Vol I, page 950 "Estey- Johnathan Estey was the son of John Estey, who was the son of Isaac, whose wife Mary was hung for witchcraft in 1692. This John came here from Topsfield, a few years after the execution of his mother. The blood of the family has been quite generally diffused throughout this town, and they are well known as a long-lived race. The larger part of the family moved to Framingham after the execution of the wife and mother, hoping they had excaped the laws of Massachuttes, but subsequently found that they were still in the hated State; but they had cleared away too many fields to take up stakes again, and have remained, some of them to the present day."
---
TENTH GENERATION - PATERNAL LINES
Estey Family
1612-1613, Shakespeare - "Henry the VIII"
512. Jeffrey Estey born about 1587 in Preston, England, died 4 January 1657 in Littleneck, New York, married 29 May 1609. Jeffrey received a land grant in Salem, Massachusetts in 1636. His will was probated 23 January 1657.
513. Margaret Pott (or Pett). (No further information on Margaret.)
Children:
512A. Catherine Estey married Henry Scudder.
512B. (Isaac 9) Estey born 27 November 1627, married Mary Towne.
---
TENTH GENERATION - PATERNAL LINES
Towne Family
1603 - Queen Elizabeth I of England died
Excerpt from "Essex Institute Historical Collections",
Volume 118 1982, page 203-- ...This article presents a small-scale pilot study of one seventeenth-century Massachusetts family in order to illustrate the feasibility and value of investigations which focus on kin networks and use genealogical material as a data base. The family chosen for the pilot study was that established in America by William Towne, who arrived in Salem, Massachusetts, in the early seventeenth century. Very little is known about the ancestry of William Towne, or about his reasons for coming to New England, but it is believed that he was the son of Richard and Ann Towne of Lincoln County in England, and it has been established that he was married to Joanna Blessing in the Church of St. Nicholas at Yarmouth, Norfolk County, in 1620...
514. William Towne born about 1600 in Braceby, England, died about 1672, married 25 March 1620 in Braceby, England. William Towne recieved a land grant in Salem, Massachutess in 1640 and lived there until 1652 when he moved to Topsfield, Massachusetts where he died in 1672. His wife died about 1682. Two of their children were daughters Mary (Towne) Estey and Rebecca (Towne) Nourse. During the Salem witch hunts, Rebecca and Mary were jailed. Rebecca was found guilty and executed. Later Mary was arrested the 2nd time, tried, found guilty and executed. She entered a long petition to the judge in which she begged not for her own life which she knew must be in vain but that no more innocent blood be shed.
515. Joanna Blessing died about 1682.
Children:
514A. Rebecca Towne born 21 February 1621 in Great Yarmouth, England, died 19 July 1692 (by hanging in Salem, Massachusetts during the witchcraft trials), married Francis Nourse, 24 August 1644.

514B. John Towne born 16 February 1623 in Great Yarmouth, England, died about 1672, married Phebe Lawson.

514C. Susanna Towne born 20 October 1625 in Great Yarmouth, England, died in 1672.

514D. Edmund Towne born 28 July 1628 in Great Yarmouth, England, married about 1652 to Mary Browning.

514E. Jacob Towne born 11 March 1632, died 22 November 1704 in Topsfield, Massachusetts, married 26 June 1657 to Catherine Symonds.

514F. (Mary 9) Towne born 24 August 1634, died 22 September 1692 (by hanging in Salem, Massachusetts during the witchcraft trials), married Isaac Estey.

1692 - Accusations of witchcraft by English-American clergyman
Samuel Parris, 39 result in dozens of alleged witches being brought
to trial at Salem in the Massachusetts colony. Nineteen will be
hanged and one pressed to death in the next 2 years, many of them
on the testimony of 12-year-old Anne Putnam.

514G. Sarah Towne born 3 September 1639 in Salem, Massachusetts, married first 11 January 1660 to Edmund Bridges, married second to Peter Cloyes. (Sarah was accused of witchcraft and put in prison but later let go. She pressed charges and was given three soverigns, one for each of the three sisters accused.) A movie was made about these trials, called "THREE SOVERIGNS FOR SARAH".

514H. Joseph Towne born 3 September 1639 in Salem, Massachusetts married about 1665 to Phebe Perkins.
---
ELEVENTH GENERATION - PATERNAL LINES
Estey Family
1580 - Francis Drake returns to England from
voyage of circumnavigation
From "About Towne", newsletter, April/May/June 1985, page 26:
"...Jeffrey Esty...was the eldest son of Christopher and Ann (Arnold) Easty, who were married in May 1586. Christopher Esty died in 1621 and in his will mentions his eldest son Jeffery Eastie to whom he leaves money."
1024. Christopher Estey born about 1552 in Mintlesham, England, died 7 November 1621 in Preston, England, married in May 1586.
1025. Ann Arnold died 26 May 1631. (No further informatio on Ann)
Children:
1024A. Edward Estey.
1024B. Christopher Estey.
1024C. George Estey.
1024D. Edmond Estey.
1024E. Ann Estey.
1024F. Elizabeth Estey.
1024G. (Jeffrey 10) Estey born about 1587, died 4 January 1657.
---
ELEVENTH GENERATION - PATERNAL LINES
Towne Family
1558 - Queen Mary I of England died, succeeded by Elizabeth I

1028. Richard Towne. (No further information)
1029. Ann (Nee Unknown). (No further information)
Child:


1030. John Blessing. (No further information)
1031. Joan Preaste. (No further information)
---
TWELFTH GENERATION - PATERNAL LINES
Estey Family
1528 - At Bridewell Henry VIII explains to nobles and citizens of
London his motives for seeking a divorce from Catherine of Aragon
2048. Jeffrey Estey born about 1515 in Hintlesham, Suffolk, England.
Childlren:
2048A. John Estey.
2048B. Edmund or Edward Estey.
2048C. William Estey.
2048D. Thomas Estey died about 1609.
2048E. Richard Estey died about 1599.
2048F. Jeffrey Estey.
2048G. (Christopher 11) Estey born about 1552 in Mintlesham England, died November 1621.