Grand Canyon Backpacking
(5/5/2001-5/12/2001)
I went backpacking in the Grand Canyon for a week. I've been to the Canyon before, but only as a day tourist. We went to a little-populated area on the north rim. Most of our trip was off-trail, and not visited very often. The first night below the rim of the Canyon, we slept next to an old cabin that had a place to sign in. The last visitors before us had been there in January.
Bob was planning a trip to the canyon; he had a six-person permit, but only 5 signed up. I had been listening to Bob, and PD talk about their last trip for quite a while. I asked how hard it was going to be; the answer was that the rangers warned Bob that he might be trying to do too much. Being familiar with Bob's trips, I asked who else would be going. The answer gave me hope that I wouldn't obviously be the weakest hiker, so I said yes.
Bob described the route as short but strenuous. There would only be 10 miles of hiking, so Bob had apparently gone out of his way to find strenuous routes. The trip would start by following a route described by Steck in "Grand Canyon Loop Hikes I". It ends by exiting from the Canyon in an area that Bob remembered descending more than 30 years earlier. There was enough question about finding the exit that Bob had two backup routes out of the canyon picked out.
(I'll try to put up a map here soon. ) The basic plan was that we would arrive on Saturday, drive to the North Rim and set up camp. Sunday we would split up and scope out the approch route (where to leave the car, and how to reach the trail down to the canyon at Swamp Point), and the exit near Crazy Jug. Monday we would leave a car near Crazy Jug, drive to the appointed location, and hike ~8 miles to Swamp Point and down to Muav Saddle. Tuesday would be the hard day: about 4 miles down from Muav Saddle to Crazy Jug Canyon. Steck had done it once in 5 hours and again in 8. A report on the web said another group took 12 hours.
Wednesday and Thursday would be rest days; we could explore down canyon to Tapeats Creek. On Friday we'd climb to the Esplanade, prepared for a dry camp that night. Saturday we'd cover the distance to Crazy Jug, and then climb out to the rim. This would be another strenuous day. Only 4-6 miles, but no water en route, and no trail to follow. If we'd done a good job scouting 5 days earlier we'd find a route easily, otherwise, we might have to head up to 4 miles further down the canyon to find an actual trail.
---
Click on any of the images for an expanded view.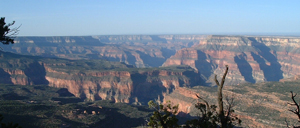 Five of us arrived in Las Vegas within an hour of one another via separate flights. Paul's flight arrived that evening. We rented cars and drove to the North Rim. The view was spectacular.

We got up early Sunday morning. From where we had crashed, we could see to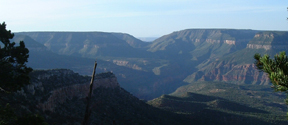 where the hike would start at Muav Saddle. Bob and I explored the route to Swamp Point, while Morresa, Martin, and Paul scouted the exit route. Bill drove back and forth several times.
The 6 of us started out as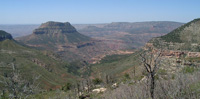 scheduled Monday morning. We hiked about 3 miles cross country, (including snow fields, bramble, up and down gullies) and then another 4 miles by old road out to Swamp Point by about 1pm. From there we got great views of Steamboat Mountain and Crazy Jug.

(courtesy of Paul Doherty)
We then descended on the North Bass trail to Muav Saddle. Muav Saddle has an old empty cabin with a register people can write in. The last visitors before us had been there in January. Half our group went to get water, while Morresa and I pulled out our books and read.
The next morning, we rose early, and descended the west side of the saddle. The guide books said we should follow the creek, expecting to bushwack. Eventually we would reach a series of ledges. When we reached one that seemed impassible, the book suggested going to the left side.
We followed the dry creek down the canyon. In places, there was almost a trail, while other times the creek bed itself was the least impassable route. There were dense brush, bramble, and occasional openings. After a while, we started finding ledges to scramble down, and we always wondered, if the route wasn't immediately obvious, whether this was the one we were supposed to go to the left on. Occasionally, it was slightly more than a scramble--we took off our packs once or twice.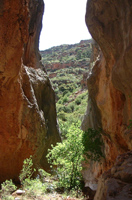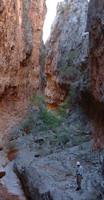 Of course, there was one where the route wasn't obvious. After a cursory look both directions, we started pushing left. We spent over an hour climbing the hill to the left, crawling up through dense brush under full pack. Eventually, Paul decided to try going the other direction. It went easily after you pushed through one row of brush.
A little later, we came to a wonderful slot canyon. It started with a drop that didn't look like we could get back up without someone above, and soon went around a corner and out of sight. Martin dropped his pack and ran down canyon a ways. When he came back he said it looked like glorious fun, so we all changed into water shoes and headed down after him.
There were pools to cross, some wading shallow water, others traversing above the water level on nearly shear walls. Finally we came to a smooth slide apparently leading to another pool. We ended up stripping down to underwear (photo courtesy of Paul Doherty) and carrying our packs overhead through a pool of water that was nearly chest-deep.
| | | |
| --- | --- | --- |
| click for a movie of Paul crossing | When we came to a drop off that we clearly couldn't negotiate, and which looked questionable both to the left and the right, we dropped our packs and looked around. It was 5 pm; we'd been hiking for 10 hours, and we were actually at a wonderful site. A series of flat ledges gave plenty of room for a kitchen and several places more than big enough to lay out a sleeping bag. We called it a day and started the soup. | |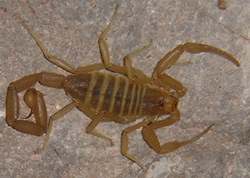 When we got up the following morning, I found a scorpion under my now-dry water shoes.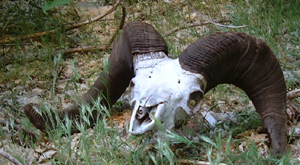 We traversed a ledge to the left of the drop-off, explored in a few different directions, and crawled down a talus slope to the canyon bottom, where we found the skull and backbone of a bighorn sheep.
The rest of the walk out of the canyon was beautiful, but uncomplicated. In
a few hours of walking, we came to the intersection with Crazy Jug Canyon; we had intended to camp in this vicinity the previous night. The current priority was to find a good pool to swim in, and a place to stay cool when it got warmer. Morresa proceeded to try out each pool. The rest of us washed our feet, rested, and explored.

One discovery in this area was that the frogs apparently liked the sun. I have several pictures of frogs baking in the sun. there were some rocks that seemed to collect them. There are at least 15 frogs in the full-size shot reachable from the thumbnail on the left!
Two hundred yards above the intersection, past a right angle turn to the left, there was a wonderful, wide series of ledges that would make an even better camp than the previous night. After relaxing a little more, we explored further up the canyon, and discoverd two beautiful waterfalls.
The lower falls were lush, with water falling 20 feet down a near vertical series of ledges.

(courtesy of Paul Doherty)

(courtesy of Paul Doherty)
The upper falls was a sequence of at least three separate falls through a scooped out passage through the rock. To visit the basin at the bottom, you had to traverse in on the left wall. Photographers could also climb the wall opposite the opening to get high enough to see in.

The obvious route out was to cannonball into the lower pool. Apparently only Morresa and I could see the obvious. Both cannonballs were photographed, though I don't have either picture here.

On the left is the view of the upper portion of the falls from inside the lower basin. On the right is the view from the opposite wall, providing a glimpse of all three of the cascades.
Thursday we took a recreational hike down the main canyon to Tapeats Canyon. It was recreational because we didn't have to carry anything but lunch, water, and cameras. More gorgeous views. Plenty of healthy century plants, and the falls that kept us from reaching the head of the canyon was beautiful.
Friday morning, Paul and Martin scouted a route out of the canyon to the Esplanade while the rest of us took it easy. We started hiking around 3pm after the heat of the day had passed. There would be no water on the Esplanade, so we had to carry all the water we could to take us through the hot afternoon hike, dinner, and the next day's hike out to the cars. "The first 10 yards up a rock slide are the hardest 10 yards of the day, and the first 100 yards are the hardest 100 yards of the day." Paul and Martin had set out plenty of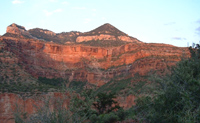 cairns to mark the way, but we still got slightly lost several times. We climbed through loose scree, dense brush, took off our packs to make fourth class moves over ledges, and were attacked by agave and barrel cactus.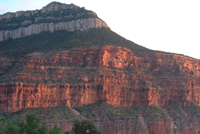 When we reached the esplanade, we were on a wonderful saddle just as the sun set with spectacular views in all directions.
Before we left, I had checked the satellite schedules. That night, I spotted three of the four scheduled satellites, and everyone was already awake at 5am when I told them to look for the International Space Station. Paul spotted it a few minutes later, and we all watched its slow progress across the brightening sky.
Compared to our earlier bushwacking, the Esplanade was yet more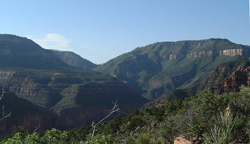 bushwacking, alternating with flat walking on use trails. The views were continuously great, and the cactus plentiful, so it took focus to pay attention to the hazards. As we approached Crazy Jug, it was pretty clear which slope we wanted to climb, but it wasn't clear where the best approach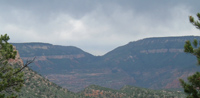 would be. Finally we found some cairns, which led us up a possible route. There were a few places that appeared to have had serious rockslides, and not much recent use, but with 6 of us scouting around, we eventually found our way up.
It turned cloudy and cool in the afternoon, and even sprinkled on us a bit. After the heat of the first part of the day, we didn't mind a bit.
---